The Othello Diaries: Tablet Geek Night At The Theatre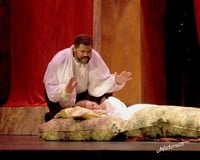 Several weeks ago I ran a series on how I used my Tablet PC in producing and directing Wayside Theatre's producton of Othello. I offered free tickets to GottaBeMobile.com and Life on The Wicked Stage: Act 2 readers to come check it out. Several readers took me up on the deal. Thanks so much. We've got one more week of performances left in the show and the offer is still available.
This Satruday night (the closing performance on Oct 7) is turning into a Tablet PC Geek Night of Culture of sorts as TEO 3.0 developer, Josh Einstein, and Blogging In Ink Master, Mark "Sumocat" Sumimoto are planning to attend the 8pm show. We'll be getting together for dinner before the show. If you can make it down for the show, let me know. Geeks and Culture. Who knew?
Heres' how to get the freebies. Sorry, dinner is on you. I'm saving up for one of those new Lenovo X60 Tablet PCs.
UPDATE: I goofed. Sumocat is coming to the 2:30 matinee. So, we'll make a Tablet Geek day out of it. Hopefull we'll cross over with Mark and Josh between shows.

As an Amazon Associate I earn from qualifying purchases.