The "other" HP Slate specs
The specs for HP's upcoming slate have leaked, and not surprisingly, HP is weighing their new slate against the iPad. But as far as I'm concerned, the slate they should be weighing it against is their old slate, the TC1100.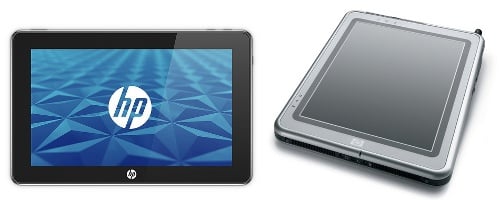 Pulling from the high-end of their old spec sheet, here's what I've gathered.
Display: 10.4-inch XGA TFT, 1024 x 768 resolution, 160-degree ultra wide viewing angle, Wacom pen input, screen rotation button
Processor: Intel® Pentium® M Ultra Low Voltage 1.2-GHz
Graphics: Intel 855PM Chipset with rich graphics from NVIDIA – GeForce 4 Go 420 32MB (4X AGP)
Storage: 5400RPM HHD up to 60GB
RAM: 512 MB of SDRAM upgradeable to 2 GB
Connectivity: 802.11a/b/g WLAN, Bluetooth, and IR
Ports: Dock connector, PC Card, SD card slot, analog VGA, 3.5 mm stereo headphone jack, 2.5 mm headset jack, 3.5 mm microphone jack, 56K modem, ethernet, USB 2.0 x2 (1 with support for External MultiBay)
Software: Microsoft Windows XP Tablet Edition 2005 and Windows XP Service Pack 2
Dimensions: 10.8 x 8.5 x 0.8 in (27.4 x 21.6 x 2.0 cm), 3.1 lb (1.4 kg) Tablet PC only
Battery: 6-cell Lithium-Ion, 40 Whr, up to 4.5 hours battery life, warm-swappable
Camera: None
With some exceptions (like the warm-swap battery), the new slate beats the old one across the board. Still, for the product of a five year plan, it's not packing much more than the incremental tech increases that have arisen in the five years since the TC1100 was discontinued. Windows 7 instead of XP, pen+touch instead of pen-only, HDMI instead of VGA for video output, etc., etc. I have to wonder if they would have already delivered something comparable or better if they hadn't stopped working on their old slate.

This article may contain affiliate links. Click here for more details.