The PSP phone is kind of ugly
I sure hope this megascoop that Engadget posted turns out to be fake. We can always wait until Gizmodo finds one in a bar though or we can just take the word of Joshua Topolsky. Either way, it sure is ugly. I guess it could be possible that the images uncovered by Engadget are not final hardware and that the device will be all one color, but I don't think my opinion will change much.Endgadget also uncovered a prototype image back in August and reported many of the same details they learned today. Android 3.0 powered, game pad instead of QWERTY keyboard, etc.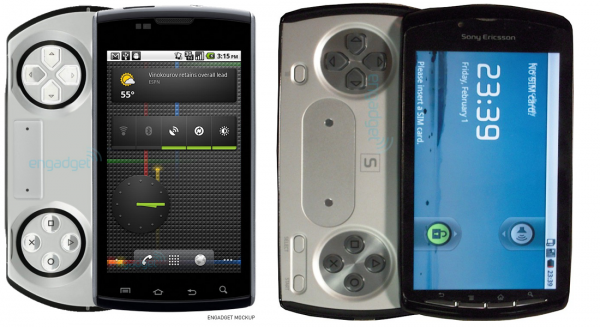 The image on the left is a mockup they posted back in August and the image on the right is the photo Engadget posted today. They are quite similar, but I am still not convinced personally. Notice the lines on the mockup for the slide out portion don't match, but the real photo seems to. The buttons look nice on the photos and they appear to be backlit too. (you have to see that in one of the other photos Engadget has).
The preliminary specs reported are pretty awesome. A quick 1GHz Qualcomm MSM8655 processor, 512MB of RAM, and 1GB of ROM. They also mention that the proprietary memory stick is gone in favor of MicroSD. Why would Sony Ericsson abandon their proprietary memory cards? The back of the phone shows an LED flash with a camera, no idea what it's specs are though.
Back on the UGLY, I think I could get with it more if the area around the controls and the controls were black to match the casing of the phone. The more and more I sit here and stare at the photo, the more I see what they are going for here. Maybe it's not so bad after all. I would love to see this in person soon.
What do you think folks? Real or Fake. Would you buy something like this if it is real?

As an Amazon Associate I earn from qualifying purchases.