The Samsung Q2 Becomes The Q1 Ultra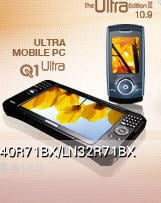 It is official there will be no Samsung Q2 Ultra-Mobile PC. Instead Samsung's next generation UMPC we've been hearing about will be christened the Q1 Ultra, once it is launched at CeBit. What's in a name? I'm not sure, but I'm also not sure if Q1 Utlra is better than Q2. In any regard info is now on the Samsung site.
Via Gear Diary

As an Amazon Associate I earn from qualifying purchases.