The Samwell Rugged Tablet PC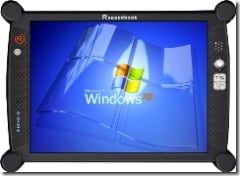 I just got this in from the folks at Samwell International – an introduction to their Rugged Tablet PC. I'm waiting to get pricing and availability info from Samwell, but here is eveything I know so far, along with a link to their product PDF.
Samwell Ruggedbook tablet PC is designed to meet the mobile computing needs and form-factor requirements of on-the-go professionals. With IP54 rugged feature (shock resistance, vibration resistance, spill resistance, dust and dirt resistance, hot and damp resistance, magnesium enclosure) developed specially for the harsh environmental conditions and physical stress.
Features:
* Compact size : 284 x 209 x 63 mm with 4 bumpers
* 10.4″ XGA ( 1024×768) TFT ; outdoor sunlight readable supports (optional)
* Resistive or Dual Mode touch panel
* ULV Intel Pentium M Processor (1.1 GHz)
* RAM: 768 ~ 1280MB DDRII 400
* HDD: 2.5″ 40/80GB shock mounted
* OS: Windows XP Tablet PC edition
* Build-in WiFi 802.11 a/b/g, Bluetooth Class II
* Optional: GPRS/CDMA/GPS
* Meets IP54 standard and MIL-STD-810F
* Wide temperature range operability: -20 ~ 60 C
Ruggedbook took the best aspects of the Tablet PC technology and improved on them for high-performance mobile applications. Ideal for industries such as insurance, retail, field service, logistic, manufacturing, healthcare, car PC, hospitality, telecommunication, energy, public safety, law enforcement, military, homeland security and warehousing.

As an Amazon Associate I earn from qualifying purchases.