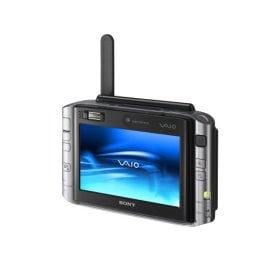 From everything I've seen and read about the Sony UX180P Micro PC, this looks to be a killer mobile unit. There are two things about this unit that make it stand out from the UMPCs – integrated keyboard and built-in WWAN. Throw in the video camera and still camera, and you are now taken over the top. You are paying for it, though.
Doing a quick price comparison ( not getting in to total feature comparisons) :
Q1
900mhz Celeron $1099

portable usb keyboard: $99

Total $1198
Sony UX180P
1.2ghz Core Solo – $1799

integrated keyboard included

Total: $1799
Price difference: $601
Like I said, it is on the high side compared to the UMPCs on the market, but it looks to be such a sweet device, capable of meeting the most important needs of going mobile without sacrificing much. Is it worth $601 more than the Q1? With Edge support (via a SIM card), video camera, still camera, faster processor, but no Tablet PC support ( yet ), I can honestly say that it approaches a "yes" in my corner. However, unlike James Kendrick, I have not had the pleasure of actually using one. I have used TabletKiosks eo, so this keyboarding option looks to be a better overall design. For the Tablet PC guy in me, though, there is one critical piece missing: the Tablet PC OS. Gotta have it, and Sony totally messed up by not including it. That one should have been a no-brainer. That'll change when Vista comes out, but I don't ever see it being officially called an Origami or UMPC. I bet they continue to use their own interactive panel. BTW: since the WWAN is through a SIM card, it should open up possibilities of using other providers.
Is it on my horizon? If I had the money, I might do it. I'd seriously consider selling my TC1100 Tablet PC to help fund it. But I'd never consider selling my X41 Tablet PC.
Looking for more info on the UX180P Micro PC? Checkout www.MicroPCTalk.com – they have some good info. Sony has a cool interactive tour here. Amazon.com has the UX180P available for pre-ordering at $1799. And of course, JK has been bragging blogging about it, too.