The Student Tablet PC Launches A Wiki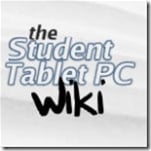 The Student Tablet PC has launched a Wiki, aimed of course at students, to allow them to enter and share information on their Tablet PC and UMPC experiences. Of course if this is anything like The Student Tablet PC site, this will be a tool that will not only be great for students, but for Tableteers of all stripes. Check it out here.
The community now has two Wiki's available for sharing information. In addition to this new launch, Tablet PC MVP, WNewquay has launched a Wiki of his own. The Tablet PC Wiki can be found here.

As an Amazon Associate I earn from qualifying purchases.