The Surface Pro 3: 3 Reasons to Not Buy
The Surface Pro 3 device Microsoft unveiled last week is a technological marvel. Packed into the devices that'll begin going out to users this June are years of knowledge, and it shows. For those really looking to replace the laptop, Microsoft has added a 12-inch display and made the Surface Pro 3 as thin as the Surface 2 devices that include no fans and can't install desktop apps. The company even added a kickstand that can be freely adjusted, saving users from a life filed with flimsy bulky cases. By most accounts, the Surface Pro 3 is the first device to truly challenge Apple's MacBook Air, or the laptop form in general. Unfortunately, pulling the trigger on a pre-order and purchasing the Surface Pro 3 might not be the best idea just yet. Here's why.
The Surface Pro 3 is Expensive
No matter how possible Surface Pro 3 buyers look at it, the device is incredibly expensive. In  Microsoft's defense, it's supposed to be. Last week, CEO Staya Nadella made it clear that the company has no immediate plans to compete with its hardware partners like Dell and Lenovo. Instead, the Surface devices and brand are meant to spur innovation and act as a sort of guiding light for hardware makers themselves.
Still, at $799, the Surface Pro 3 is a premium device with a very premium price tag. To make matters worse, the base price only includes a 64GB of storage and 4GB of RAM. A fully stuffed Surface Pro 3 device will run $2,000 when it debuts in August. All of these prices don't include the new Surface Pro 3 Type Cover keyboard that Microsoft always shows off with the device. It'll cost users another $129.99.
Read: Microsoft Surface Pro 3 to Take on the MacBook Air for $799
By comparison, Dell's Inspiron 15 notebook comes with 4GB of RAM and the same Intel Core i3 processor as the base level Surface Pro 3 for $399. Unfortunately, it's bulkier and doesn't include a touchscreen, but it's still not a bad machine. Apple's Macbook Air starts at $899 and comes with a smaller 11-inch screen. On the other hand, it still includes 128GB of storage, 4GB of RAM and an Intel Core i5 processor. Either way you look at it, the Surface Pro 3 is expensive when judged against the competition.
Replacing the Batteries in Surface Devices Are Expensive
Ever since Apple released the MacBook Air and made it ok for hardware makers to not include a way for users to change out the batteries in their machines, a small number of users have been on a crash course with reality. Technology companies have become very good at creating devices that get longer battery life, however users either don't know or don't care that all batteries need to be replaced at some point.
Thankfully, most users don't seem to keep their devices for more than two years, which is right around the time most batteries began to tail-spin. In a Reddit Ask Me Anything, Microsoft did say that the Surface devices were engineered to get as long as four years before needing new batteries. Simply put, replacing the battery in a Surface Pro device is expensive. According to reports from those who've sent in their devices, replacing the spent battery in a Surface Pro cost $450, mostly that's because Microsoft doesn't actually change the battery. Instead, it just sends users a new unit.
All signs point to this being the same thing that Surface Pro 3 users will experience a few years after purchasing their device. Though, Surface Pro 3 users will need to fork over $200 instead of $450. To be clear, this isn't a matter of quality. Having a device for a long period of time will always require a battery replacement. It's that Microsoft's prices are so high that worries. By comparison, Apple charges its users just $129 to replace the battery in the MacBook Air.
The Surface Pro 3 Address A Few, But Not All, User Complaints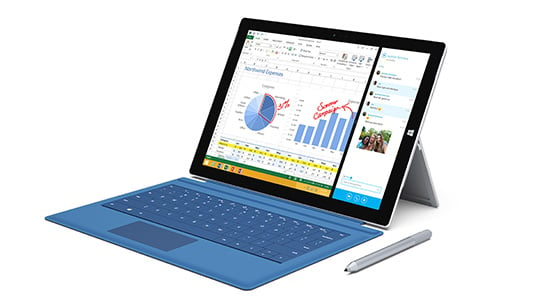 Finally, the biggest reason to hold off on purchasing the Surface Pro 3 is simply that this hardware revision fixes some, but not all, of the complaints leveled at past Surface Pro devices.
There's a new cover keyboard that allows the device to sit more comfortably on the lap and an adjustable keyboard so that users don't develop a neck ache. On the other hand, the Surface Pro 3 still lacks a built in place for the included Surface Pro pen accessory. This device isn't the upgrade to make for those who wanted more connectivity either: the Surface Pro 3 includes just one functional USB port as the devices before it did.
If either of those issues were a concern for you, then you're stuck waiting until the Surface Pro 4 to see them resolved.
Read: Microsoft Surface Pro 3 is Aggressive, Defensive, Ultimately Confusing
During last week's Surface event Microsoft announced that a single version of the Surface Pro 3 would be available on store shelves beginning mid-June. The cheaper and more expensive versions of the Surface Pro 3 won't be available until August.