The SwitchBack UMPC – very cool!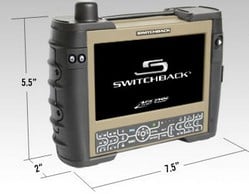 One of the vendors we are planning on visiting while at CES is Black Diamond Advanced Technology, the makers of the SwitchBack Ultra-Mobile PC.
The SwitchBack is a rugged UMPC, with a built-in thumb keyboard, that also features something very unique: plug-in modules for the back of the UMPC. Here is a list of current modules available for the SwitchBack:
Additional Battery
Additional Processors
Additional Hard Drive
Digital Camera
Scanner
SAASM GPS Receiver
SATCOM Radio
Terrestrial Radio
Laser Range Finder
Breathalyzer
Fingerprint Reader
In addition to the Back Modules, the SwitchBack can run multiple operating systems independently or simulataneously: Windows XP, Windows CE, Windows Mobile, Linux, etc.
Specs:
Processor
Operating System

Genuine Windows XP
Windows Mobile
Windows CE
Linux

Memory
Storage

40GB Removable HD (60GB Optional)

Input Devices

Touchscreen display with stylus
Condensed QWERTY membrane keyboard
Pointing Device

Battery

Hot Swappable Lithium Ion Battery
(11.1V 4300mA/hr)
Recharge and run unit
from 9 to 28VDC input
2 to 5 hours (standard battery)

Display

5.6″ Sunlight Viewable LCD
1024×600 WSVGA Resolution

Graphics

Onboard Intel GMA-900 Graphics Chipset

Wireless

Bluetooth 2.0
WiFi b/g
GPS (C/A) (Optional)

Base System Input/Output

1x USB 2.0
1x Power Port
1x Ethernet (Docking Station)
1x VGA (Docking Station)
Multi USB 2.0 (Docking Station)

Physical Dimensions

Dimensions: 7.5″x5.5″x2″
Weight: 3 lbs

Warranty

One Year Limited Warranty
(extended
My contacts at BlackDiamond tell me that they will be in full scale production in Q1 2007. Contact Black Diamond and they will connect you with their resellers. The price of a basic unit with no modules will be approximately $3,600.

As an Amazon Associate I earn from qualifying purchases.