The Tablet PC Show Podcast #45 Is Live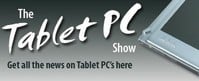 Perry is back with another Tablet PC Show podcast. Show #45 has a full agenda including UMPC info, digital pens, a monitor/touch screen that can give either a Mac or a PC a Tablet PC like experience, everybody's favorite keyboard this week-the Sierra Stowaway Bluetooth model, and Inscribe, along with Vista and Office 2007. Check out the show notes, download or subscribe here.

As an Amazon Associate I earn from qualifying purchases.