The Tablet PC Show Podcast #48 Is Live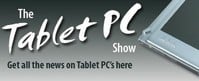 Perry Reed has released show #48 of the Tablet PC Show Podcast. He covers quite a bit of Tablet PC and UMPC ground and even gives a nice shoutout to the good folks at GottaBeMobile.com, whoever they are. Check out the show notes, download, or subscribe here.

As an Amazon Associate I earn from qualifying purchases.