The Tablet PC Show Podcast #48 Is Live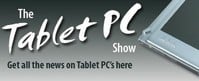 Perry Reed has released show #48 of the Tablet PC Show Podcast. He covers quite a bit of Tablet PC and UMPC ground and even gives a nice shoutout to the good folks at GottaBeMobile.com, whoever they are. Check out the show notes, download, or subscribe here.

This article may contain affiliate links. Click here for more details.