The Tablet PC Show Podcast #50 Is Live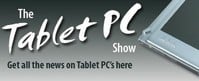 Here's some podcast fun. The Tablet PC Show #50 is now live and Perry brings some coverage of recent Tabletscape news. He also talks about his recent visit to the TabletKiosk Roadshow in Orlando (and he's posted some pictures on the site.) Check out the show notes, download or subscribe here.

This article may contain affiliate links. Click here for more details.