The Touch Book Demoed at DEMO 09 with Detachable Screen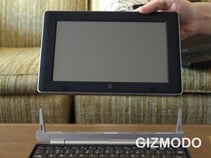 At this winter's DEMO 09 a company called Always Innovating is going to show off its Netbook that they call a Touch Book. Yes, it has a touch screen, but there's no word yet if it is has a capacitive digitizer and multi-touch. Which is interesting because some of the coverage says it can run some of the same games as on the iPhone using a 600 MHz TI OMAP  3 processor that is built around ARM technology and is running an Open Embedded Linux platform and can render OpenGL 3D graphics. Always Innovating is calling this a ""Netbook Reloaded." The screen is 9.4 inches and when it is detached it weighs about one pound.
But catch this, it has a fully detachable screen. Yep, that's right. Kind of reminds me of the HP tc1000 series. Intriguingly when it goes up for pre-order this week it also will also have two prices: $300 for the Tablet only and $400 if you want the keyboard/dock. The device weight less than two pounds and has a battery life of 10 to 15 hours.
More specs after the jump, and Gizmodo has some video and many more pictures.
9.4″ x 7″ x 1.4″ for 2 lbs (with keyboard)
ARM Texas Instruments OMAP3 chip
1024×600 8.9" screen
Storage: 8GB micro SD card
Wifi 802.11b/g/n and Bluetooth
3-dimensional accelerometer
Speakers, micro and headphone
6 USB 2.0 (3 internal, 2 external, 1 mini)
10h to 15 hours of battery life
Via VentureBeat

As an Amazon Associate I earn from qualifying purchases.