The Viewsonic G 10 Inch Tablet Reviewed Found Lacking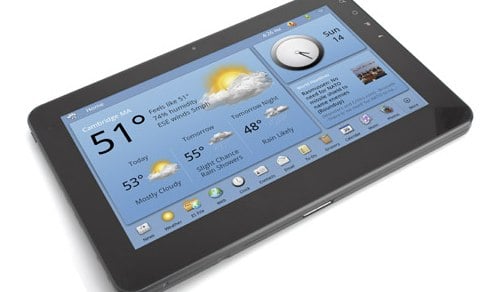 Laptop Mag got their hands on the Viewsonic G 10 inch Tablet and has posted up one of their usual thorough reviews. Suffice it to say they weren't too enthusiastic about the Viewsonic G. Running on the Nvidia Tegra v2 platform the G is running Android 2.2 and offers the usual array of Tablet/Slate functionality that we see in the current generation of Android Tablets that aren't running an OS tailored for Tablets and Slates.
From the sound of things Viewsonic added a UI layer on top of Android 2.2, called Tap N Tap and from the looks of the review that led to poor performance issues on this model. The reviewer got great battery life (11 hours) but it doesn't offer the usual array of Google Apps or access to the Marketplace, so if you're looking for that functionality, this isn't the Tablet/Slate for you. They do offer a shortcut to Handango. Call me crazy, but isn't one of the points of these Android devices to have access to the Android Marketplace?
Oh, well. Check out the full review here.

This article may contain affiliate links. Click here for more details.