The Voice Controlled Future: Your Gadgets Are Listening
Voice controlled gadgets are not new, but for the first time in years the technology is god enough that we can use it on a regular basis, as a means of interacting with our smartphones when fingers and tapping just wont do.
We've moved from 'simple' apps that turn our speech into text to more complex virtual assistants like Siri who can 'understand' requests and deliver responses to a variety of questions, and don't expect it to stop there.
Voice controlled tech is preparing to jump from our smartphones to our living rooms, cars and make a comeback on our TVs — if Nuance has its way.
Nuance isn't a household name, but if you've controlled anything with your voice in the last few years, odds are you've used the company's technology. Nuance powers Siri, the iPhone's personal assistant.
If Apple is working on an Apple TV with Siri controls, Nuance will likely be the technology inside, listening to your requests to change the channel, find movies with a favorite actress and controlling the volume.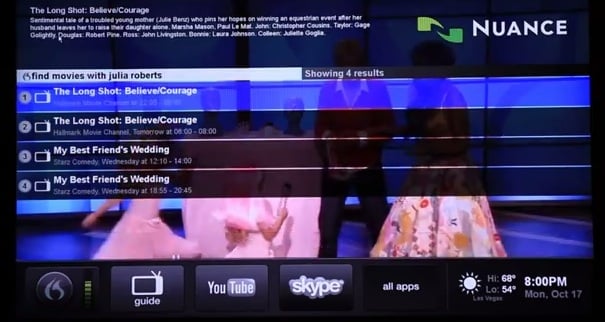 Nuance gave the N.Y. Times a demonstration of Dragon TV, which will come out in a consumer form via LG later this year. While there is no mention of Apple in the article, if Apple does offer a voice controlled Apple TV with Siri, Nuance will be the company powering the backend.
During the demonstration, Vlad Sejnoha, Chief Technology Officer at Nuance, shared possible commands that we can expect to use on a voice controlled Apple TV.
find movies with Meryl Streep.
change to CNN.
mute.
or even shop online.
Check out a demo of Dragon TV below, to see these commands in action.
https://youtu.be/iKWDXupYFYg
To avoid the problem of changing the channel while talking to someone else in the room, you must say, "Dragon TV", before a command.
Even more exciting is the prospect of a smarter mobile personal assistant like Siri, who can understand commands from within apps and during activities. Imagine switching Hulu Plus to The Daily Show, with your voice from anywhere on your iPad, or ensuring that your iPhone is really silent by telling it to be quiet.
If you want to get really crazy, telling your iPhone to order shampoo, 5 hour energy and puppy food from Soap.com and having that translated into an action, not just a reminder.
There's still a lot of progress to be made in the voice control space, and many issues to address. Privacy organizations and experts are concerned about the digital trail that we are leaving every time we use voice controlled services.
Another issue that voice control faces is standing the test of real world use. Working in a lab is different from working in the hands of unpredictable and unintelligible consumers. Siri, err Apple, is facing a second lawsuit from a user who claims Siri doesn't deliver the same experience shown in ads like the one below.
https://youtu.be/-UpmQN55q2g
How do you want to control your gadgets with your voice?