The Walking Dead for iPad Review (Episode 1)
The Walking Dead is the latest adventure game from Telltale Games, arguably the biggest developer that keeps the genre alive. The new zombie comic book-based game took a few weeks to come to the iPad and iPhone, but the wait was definitely worth it.
Unlike other zombie games that focus solely on shooting the undead, The Walking Dead focuses on the people living through the situation and how they interact with one-another. The game starts with Lee Everett, the player's main character in the back of a police car on the way to prison when the car hits a zombie and he's thrown into the woods with a number of undead surrounding him.
From there Everett meets a girl named Clementine that he can protect, and a number of other survivors just trying to live a bit longer.
The player interacts with other characters through conversations where the player can choose how to respond. Most responses have a timer, however, adding pressure to the situation. The pressure is even higher when the player needs to remember how they talked to a character before. Characters will remember certain responses, and can catch the player in a lie if they aren't careful.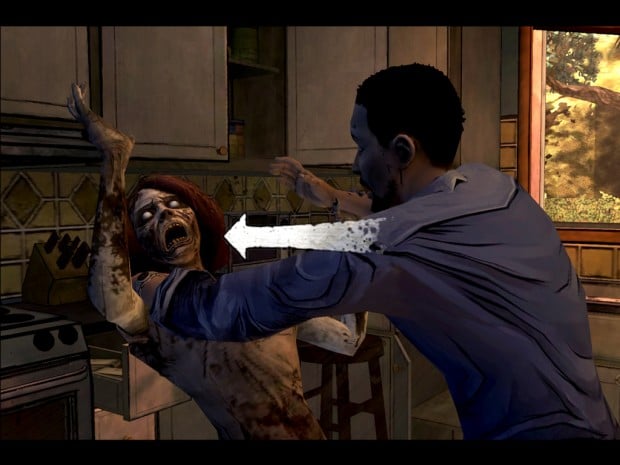 The game defaults to showing tips when characters remember responses, but players can turn them off.
The method makes frantic situations seem more realistic, especially when the player is thrust into a situation that requires quick responses to new characters that were just introduced.
There are some action sequences against zombies, which mostly involve either puzzle-solving to deal with the undead quietly, or frantic tapping and swiping. The few puzzles there are in the first episode aren't too difficult, but they aren't boring either.
Fighting off zombies seems almost like a chore compared to dealing with the other humans, but tapping and swiping to defeat them is a lot easier on an iPad then on a MacBook trackpad. Being able to tap on moving targets with a finger works better than dragging a mouse.
The story in the first episode is interesting, and it's hard to put down. I started playing the game late one night with the intention of playing for about half an hour before bed. About three and a half hours later the credits started rolling with a preview of the next episode.
The Walking Dead is well worth the $4.99 for the first episode, and if the other episodes are as much fun as this one I'll have no problem paying the extra $14.99 to pre-order them now.
I played the game on the iPad, but it is also available on the iPhone and iPod touch as well. The iPad seems like the preferable platform to us simply because of the larger screen. The game requires an iPad 2 or newer or an iPhone 4 or newer device to run.