The whole team is now in Vegas!!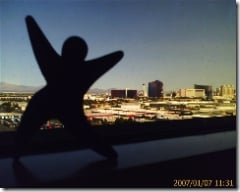 I just arrived in Vegas to meet up with the rest of the guys! I haven't seen them yet because they're in the MVP sessions that are going on. But I should be meeting up with them soon!
I did already meet somebody very special though. Splotch!! He was hanging out by the window looking at all the cool stuff around here – vendor tents, a Vista bus and taxi (yes really) and booths galore…
All things we are going to be covering in the next few days! Get those RSS feeds tuned in because we are going to be rockin!!!

As an Amazon Associate I earn from qualifying purchases.