6 Things to Do With Your New HTC One M9
Today is the official release date for a few flagship Android smartphones, one of which is the new HTC One M9. And while this may not be your first time setting up a new phone, and are likely upgrading from an older HTC One (M7) or similar device, below are a few steps all owners should take when they get their new phone.
On March 1st the HTC One M9 smartphone was finally announced and revealed after months of leaks, rumors and speculation. It came as no surprise thanks to a variety of leaks, but sadly didn't feature many design changes from last year. It still has plenty to offer and is the latest and greatest phone to hit the market, aside from the Galaxy S6, and it's available nationwide starting today, April 10th.
Read: HTC One M9 Review
When you get a brand new smartphone there are obviously some things you need to do. Get it turned on and all setup. Sign in and sync your Google account, Facebook, and all the usual stuff, but below are a few other things new owners should be aware of and possibly do with their new device.
All users are different, as is each smartphone, but here are six or so things all new HTC One M9 should probably do or at least try on their smartphone. You'll want to add some screen security, try out the theme engine, disable some bloatware and more. So lets get started.
Add A Lockscreen Password or Security
HTC's new One M9 doesn't have a fingerprint scanner like the iPhone or Samsung's new Galaxy S6, but that doesn't mean you can't add some security and protect your device from prying eyes. One of the first things you'll want to do is add a password, pin, or pattern to the lockscreen to keep things safe.
There may be a notification to do this during the initial setup, but if not, you'll want to head into settings > security > screen lock > and select one of the many different options for screen security.
We typically use a pin, as typing an entire password multiple (possibly hundreds) of times a day can get very old.
Use the Charger in the Box
These days smartphones are starting to come with some fancy features when it comes to turbo charging. The HTC One M9 features Qualcomm Quick Charge 2.0 technology, and it can charge up to 60% faster than some older devices. It's a general rule of thumb to use the charger and cable that comes in the box, but sometimes users need to be reminded of this.
If you're like me you have tons of wall warts, usb charging cables and more lying around, but try to always use the stock charger that comes with the One M9. It's specifically designed to charge the phone with the quick charge technology, and has the right output voltage for the best charging scenario. The quick charging feature works when the phone is under 10% full, and charges extra fast and slowly goes back to normal (yet still faster) speeds. You may want to invest in a second Rapid Charger from the HTC store.
Disable Apps and Bloatware
Once you get your One M9 all setup and you're installing some of the apps you use on all your devices, it's a good idea to glance at all the apps pre-installed. Some can be installed, but most you'll only be able to disable. We're talking about bloatware. This comes from HTC and partners, then more bloatware from carriers like AT&T, T-Mobile or Verizon. Stuff like T-Mobile Caller ID, Visual Voicemail, T-Mobile TV, My account and more. It all adds up, and bloats your device and your app drawer with unnecessary stuff.
To do this you'll want to head into settings > apps > and swipe over to the "all column" to get started. Most aren't able to be deleted to free up space, but you can disable them and get them out of your application tray.
Install A Micro-SD Card
Thankfully HTC was smart enough to keep a micro-SD card slot in the new One M9, unlike Samsung, and this means owners can add as much additional storage as they'd like. I have a 64GB SD card in mine, and you'll want to do the same for all the pictures and video you'll take with the 20 megapixel camera, not to mention all the apps, games, music and more you may accumulate on your new phone.
There's a small tool (or any pin will do) and insert it into the tiny hole on the top right of the device near the volume keys. Add a micro-SD card here, and you're all set. The other side is the SIM card for service from your carrier, and doesn't need to be messed with.
Install A New Keyboard
With Android you can always swap out different aspects of the device software for 3rd party apps. I'm one that always replaces the messaging app with something else, which is Textra. Another thing is the keyboard. Swype, SwiftKey, or the stock Google Keyboard are a few options that many enjoy.
While the pre-installed HTC keyboard is decent and has some of the same swipe or glide to type features, it isn't as complete or as useful as some of the others available. Personally I stick to the regular Google Keyboard.
Try the Themes App
With HTC Sense 7 there's a brand new theme engine that's actually extremely powerful. In a few taps you can download and apply an array of themes available out of the box, select from one of many fan-made themes, or even easily create your own. They're all nice and give the phone a unique look. These changes everything from wallpaper, icons, font, background colors and more. It's extremely powerful and quite nice.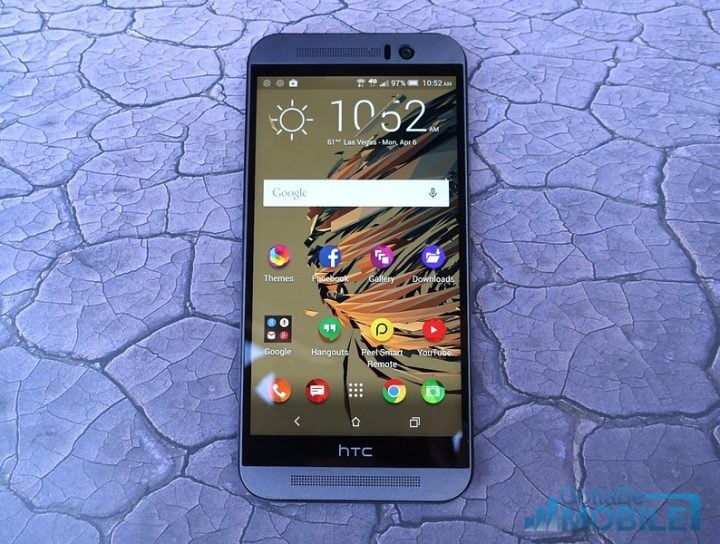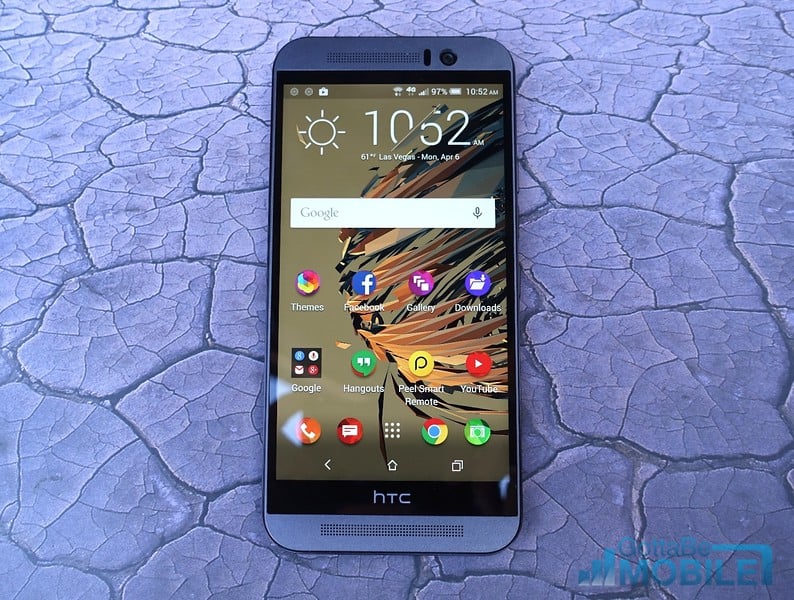 The icon simply titled "Themes" is where you'll get started. Once you're in here you can change things as little as the wallpaper background image, to more aggressive things like the entire look and feel of the operating system with entire themes. There are a lot of options, so give it a good glance and find what you like best.
Read: How to Return to the Default HTC One M9 Theme
You can even try making a theme of your own if you'd like. They let you chose from their own list, user-made themes, or create your own.
Final Thoughts
All owners will likely want to setup everything how they'd like. Move around all the icons on the homescreen, change the wallpaper, install 3rd party apps and more. There's a new HTC widget that predicts your usage on the main screen, and will add new icons of apps you use frequently. It's a nice idea, but changes on the fly so I quickly removed it.
Get your new phone all setup, download some apps, do everything we mentioned above, and then try out that fancy new camera. An update should be arriving today (or soon) that fixes some of the camera problems we explained in our review. Once you've done some of our steps above and accepted the latest update, you're all set to enjoy your new phone.