This American Life Pulls Episode About Apple Factory Conditions for Being "Partially Fabricated"
This American Life has decided to pull one of its most popular episodes, one that talked about iPad production lines in Foxconn. The episode was pulled because it turns out that Mike Daisey, the man who spoke about the conditions in the Chinese factories had "partially fabricated" his report.
It appears that Daisey lied to fact checkers at This American Life who asked for contact information of his Chinese interpreter. He claimed the number he had didn't work any more.
Ira Glass, host of the radio show and podcast, admitted the story should have been killed at that point. The show aired because some of what Daisey talked about in his monologue checked out well. Turns out Ira Glass was right, the story should have died before it aired.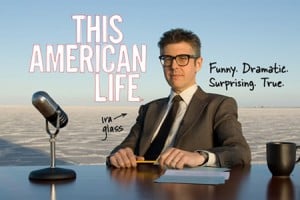 This American Life determined that most of Daisey's report was false, thanks to Marketplace China Correspondent Rob Schmitz, who found Daisey's interpreter. The interpreter, who goes by the name of Cathy Lee, disputed many of Mike Daisey's claims.
In his monologue, Daisey talks about iPad line workers who were poisoned by a chemical called a-hexane. While such an incident did occur, the factory wasn't in Shenzen as Daisey claims. The incident actually happened hundreds of miles away in Suzhou.
Daisey also speaks about meeting underage workers and a man who had his hand mangled by a machine that builds parts for the iPad. Cathy Lee claims no such incident occurred.
To make amends for the broadcast, The American Life will dedicate this week's episode to "detailing the errors in the story." Glass says "we're letting the audience know that too many of the details about the people he says he met are in dispute for us to stand by the story."
That episode will air today and be available for download on Sunday.
Daisey claims that he should have never allowed his monologue to appear on the show. He said "the mistake I truly regret, is that I had it on your show as journalism, and it's not journalism. It's theater."
The original podcast was This American Life's most popular with more than a million combined streams and downloads.

As an Amazon Associate I earn from qualifying purchases.