This Is How Sony May Implement Interchangeable Lenses on the Honami Smartphone
It's been rumored that one of the features of Sony's camera-centric Honami i1 powerhouse is that the device may come with interchangeable lenses, a feature that has been reserved for primarily DSLRs and pricier mirrorless systems on the market. So how will Sony implement such a feature on a smartphone, while at the same time minimizing bulk and keeping costs down?
According to a rumored leak on Sony Alpha Rumors–the site gives the leak of a high reliability rating–Sony may build separate lenses that are systems themselves. Equipped with its own processor, image processor, NFC, WiFi, and the optics, the lens themselves can serve as the camera. Essentially, what consumers will get is a cylinder that's a camera–it's like  DSLR, but without the bulky camera body as the camera components are all housed within the lens unit.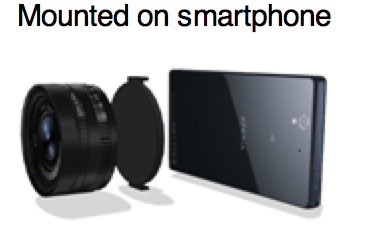 READ: 4 Camera Phones to Keep An Eye On
When users are ready to view, share, and transfer images, the camera–the lens housing that you see–will pair with the smartphone via NFC and WiFi to transfer the images.
For convenience, the site notes that users can mount the lens on the phone itself, but they can also use it as a standalone device. With various different lenses, users can augment the photo capabilities, or they can even use the standard camera that's built into the phone itself.
This solution is different from the mounted third-party zoom lenses that we see available for a variety of different smartphones in that those lenses are merely glass that help the camera on the phone. Sony's implementation makes the lens the camera and can be used without the need for the phone.
According to that site, the first lens will use the large 1-inch sensor, which is larger than the Nokia 1020 and Nokia 808 already large PureView sensor size (we're talking sensor area, not megapixel count), and will feature the same sensor as that on the refreshed Sony RX100 model called the RX100 MII. It will feature Zeiss optics and there are rumors that a second model with larger zoom and smaller sensor will be coming to market later.
For its part, the Honami has been rumored with a 20-megapixel Sony Exmor RS sensor.

As an Amazon Associate I earn from qualifying purchases.