This is How You Remove the Galaxy S6 Battery
Surprise, you can remove the Galaxy S6 battery. Samsung detailed the six step process to remove the battery on the Galaxy S6, but it comes with several major catches.
This isn't a hidden Galaxy S6 feature that lets you swap in a spare Galaxy S6 battery. In fact Samsung warns that only a service provider or a repair agent should follow these steps.
Another interesting piece of information that comes with this process is that the back is removable, in some fashion. It is unlikely that you can snap the glass back of the Galaxy S6 off like you can with plastic on the Galaxy S6, but perhaps this will allow users who break the Galaxy S6 glass back to buy a replacement that they can adhere in place of the original.
If you remove the Galaxy S6 battery you will void your warranty, but here is how it is done. Please don't try this at home.
Galaxy S6 Battery Removal Instructions
With just six steps you can take the Galaxy S6 apart and remove the Galaxy S6 battery if it fails. You will likely need a hairdryer to loosen adhesive and you will definitely need a screwdriver and a lot of patience.
Step 1. Eject the SIM Card tray and set it aside.
Step 2. Remove the Galaxy S6 back cover. The instructions only show arrows indicating that you should remove it. There is no pull tab visible in photos, so you will likely need to heat it up with a warming plate or a hairdryer until the adhesive is loos enough to remove the Gorilla Glass 4 back from your Galaxy S6.
Step 3: Remove 13 screws from the Galaxy S6. The image above shows the location of these screws.
Step 4. Lift up to remove the circuit board from your Galaxy S6. No one said this was an easy option to replace the Galaxy S6 battery.
Step 5. Carefully disconnect the Galaxy S6 battery from the phone. The image above shows where the connection to the phone is made. Look near the camera.
Step 6. Lift up to remove the Galaxy S6 battery.
You should only perform this process if you know what you are doing or you need to replace a Galaxy S6 battery that failed outside of warranty. Any problems in the first year should be covered under warranty through Samsung. Samsung does not list any instructions to remove the Galaxy S6 Edge battery, so it may be more complicated.
The Galaxy S6 is the first Samsung smartphone n the Galaxy S line to use a sealed design that doesn't let users replace the battery. This was a feature that Samsung made a major deal about when claiming the Galaxy smartphones were better than the iPhone in ads as recent as Fall 2014.
https://youtu.be/4M9UhtTRM1Q
Reaction to the change from current Galaxy S owners was swift and angry in tweets and other social media where users complained about the change.
The Samsung Galaxy S6 does not include a Micro SD card, which is another issue and it is not water-resistant like the Galaxy S5. Samsung ads also highlight this water-resistant feature on prime-time TV.
The reason Samsung dropped these features is because the Galaxy S6 includes a new metal and glass design that delivers a more premium look and feel than older models. The new Galaxy S6 and Galaxy S6 Edge feature a 5.1-inch display with a Ultra HD resolution, come in 32Gb, 64GB and 128GB options and feature a new Samsung Exynos processor.
Count on a Galaxy S6 release date in April 2015 on major carriers like Verizon, AT&T, T-Mobile, Sprint and U.S. Cellular.
You can buy a Mophie Galaxy S6 battery case to add battery life to the Galaxy S6 without plugging in and there will be a LifeProof Galaxy S6 case that makes it waterproof, likely to six feet for one hour. Check out the Galaxy S6 cases below.
9 Exciting Galaxy S6 Cases
OtterBox Galaxy S6 Cases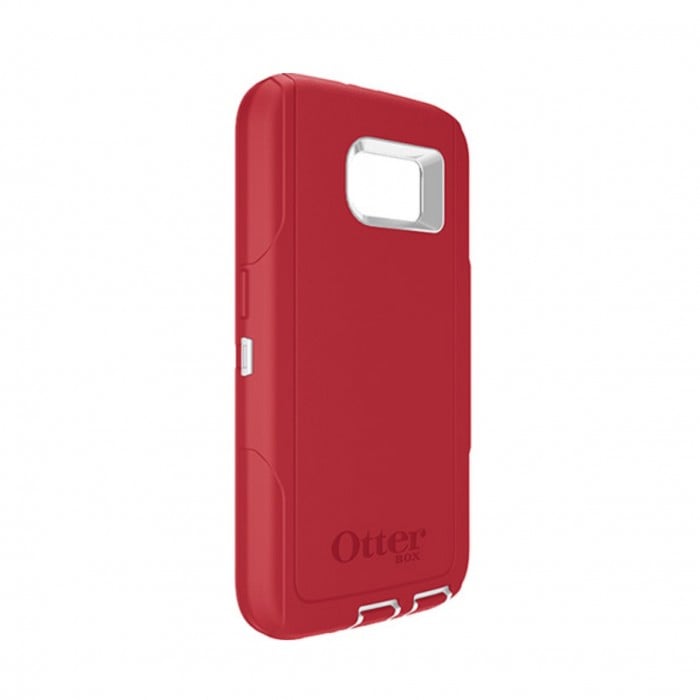 Users that need a lot of protection should check out the Galaxy S6 OtterBox cases including the Defender and Commuter series that offer a lot of protection for the device.
OtterBox Defender Galaxy S6 cases come in seven colors for the shell and seven for the cover, allowing users to combine to get the color scheme they want. The case is $49.95 and there are higher-priced options with RealTree camo and with sports teams on the back. This case includes a screen protector and port covers to keep dust out of the ports. OtterBox Defender Review.
The OtterBox Galaxy S6 Commuter case is slimmer with less protection, but a more pocketable size that appeals to many users. The dual-layer protection can absorb drops and it includes a stick on-screen protector. This case is $34.95 with the same variety of color options. OtterBox Commuter Review.