This Is Microsoft's Answer to the iPhone's Siri Personal Assistant
Much has been leaked about Cortana, Microsoft's answer to the iPhone's Siri personal assistant. To date, leaks have included speculation about Microsoft mixing the personality and conversational way that iPhone users interact with Siri and the active data collecting features of Google Now. Finally, we now have a picture of what Cortana looks like.
Pictures of the upcoming voice and personal assistant surfaced early this morning on the The Verge.  Instead of opting for the full body of the Halo character that it's named after, Cortana is really just a floating orb in the middle of the screen.
Though a bit basic, that orb will slowly begin to animate in reaction to the user over time. For example, Cortana will change its appearance if it's processing information or speaking to the user.
Screenshots of Cortana processing information and its settings also confirm much of what has already been leaked about its capabilities. A checkbox in its settings confirm that users will be able to give it permission to access their email accounts so that it can process flight information and "other things" that should get sent to them. A toggle at the top of the screen also confirms that users will be able to manage whether Cortana automatically suggests that they create reminders and more.
Read: Will This new Windows Phone Feature Poach iPhone Users?
In fact, the settings screen confirms just about everything that's already been leaked about Cortana except one feature: the ability to specify which name Cortana uses to address the user. That's something that hadn't been shared in previous leaks and coincidentally something that Apple's Siri personal assistant can't do on the iPhone 5s.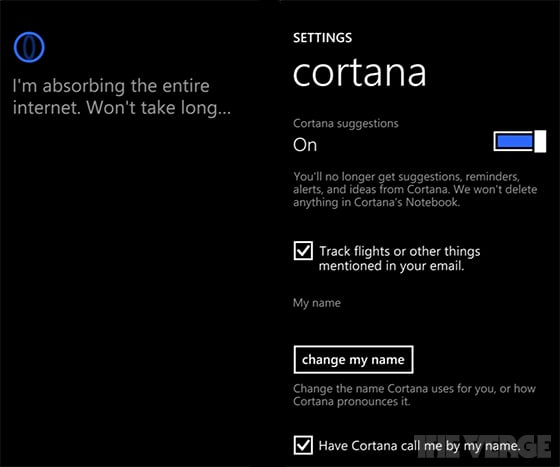 Read: Windows Phone 8.1: What We Know Now
Sadly, Windows Phone owners and potential Windows Phone buyers will be left waiting a bit for the Cortana personal assistant. Most reports have confirmed that we'll see it released as a part of Windows Phone 8.1, the upcoming free update to Windows Phone. Microsoft isn't expected to detail its features until the BUILD 2014 conference in April,