This Is My Next Says Microsoft's Next Big Play Might Be To Ditch Windows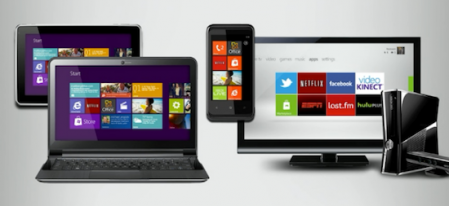 Interesting, interesting, interesting. This Is My Next… the current home of the Engadget expatriates until they launch their own product this fall sometime is pulling some threads together and weaving them into some interesting speculation that ought to at least get some conversation going.
At Microsoft's Worldwide Partner Conference, Microsoft Exec Andy Lees pointed to a future that most already suspect will occur: that eventually Microsoft will have a single operating system that runs PCs, phones, Xbox, etc…. Lees says Microsoft is aiming for "coherence and consistency." Again, nothing unexpected there.
This Is My Next takes that further with this quote:
Turns out that almost exactly describes something we heard from a source the other day, and we've got some more details that point to a far more radical plan within Microsoft. What we've been told is that Microsoft is planning to somehow harmonize not only Windows for PCs and Windows Phone, but also the Xbox operating system sometime within the next four years — a timeframe that perfectly lines up with both the end of the Xbox 360′s 10-year lifecycle and the end of Windows 8′s expected three-year run. That would mean Microsoft's next next OS will run on PCs, tablets, phones, and the next-gen Xbox when it hits sometime in 2015 / 2016. Yes, it sounds crazy, but it fits perfectly within the broad outlines Lees confirmed during his keynote yesterday. And that's not even the wildest part.

 Our sources also tell us that Microsoft is seriously considering ditching the "Windows" brand name in favor of something new when all this goes down. The idea is to rebrand this new super-OS with something that better fits with Redmond's vision of the future.
Like I said interesting, and certainly within the realm of possible speculation if not strategy potential.  This comes intriguingly enough a day after Lees pointedly says that Microsoft views Tablets as PCs as opposed to mobile devices, defending against a lot of the criticism of why we're looking at a full blown Windows 8 OS on a future Windows Tablet instead of some version of the Windows Phone 7 OS. Of course if you've looked at the videos that have been around for awhile, you'll see that Windows itself is morphing in that direction anyway, at least in terms of UI.

I wouldn't get my shorts in a bunch over this. In fact I would look at this as encouraging news from Redmond if the speculation is true. I would hope Microsoft is thinking about its future this way, (regardless of whether it happens or not) simply because it shows that they are paying attention to where things seem to be going in the supposed "Post-PC" era. The difficulty comes when you realize that Microsoft has a considerable investment to protect in that Windows brand and making any transition away from that will not only be a challenge for Microsoft but its many partners as well. Quite frankly, I hope this does come to be.

As an Amazon Associate I earn from qualifying purchases.