This Is The WebOS TV By LG
Users won't have to wait until LG's Consumer Electronics Show press event to get their first look at the company's WebOS equipped television set thanks to a new leak.
Evleaks revealed the hardware design and the user interface of the WebOS television set early this morning, noting that users should expect the device to go on sale sometime within the year.  While the webOS TV by LG is based on the same operating system that the now defunct Palm created for its iPhone competitors, it seems LG has done a lot of work to revamp the operating system's interface for its use.
In the render leaked, the WebOS TV by LG is shown playing back live television with a new browsing interface overlaid on the picture. That overlay show's selections for YouTube, Facebook, Skype and Twitter. As such, it's reasonable to assume that LG has created revamped versions of these apps for WebOS TV.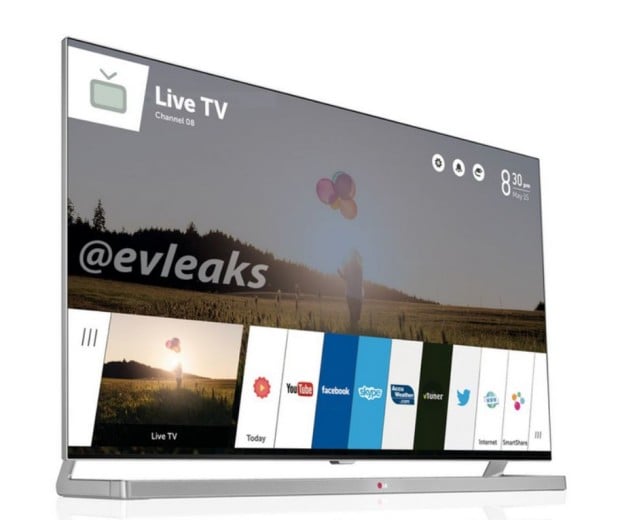 Unfortunately, today's leak didn't include any new information about WebOS TV's internals. However, an earlier report from The Wall Street Journal indicated that the device will feature a 2.2 GHz dual-core processor and 1.5GB of RAM. Details about the television screen's dimensions are still hard to come by.
LG announced that it'd purchased Palm's WebOS operating system from HP earlier this year. At the time, the company made its intentions to build televisions with the now open source software project clear. HP acquired Palm in 2010. Originally, HP hoped to use the company's assets to reassert itself in the smartphone space. The project stalled soon after the company launched the HP Touchpad tablet and HP decided to cancel all upcoming WebOS-equipped hardware.
Read: LG To Unveil webOS Based TV at CES 2014
While building devices on WebOS didn't work out for HP, it could prove pivotal for LG. The company hopes that an end-to-end run at building smart televisions will help it build an early lead in the space before other manufacturers can completely capture the market. In fact, it's likely that the WebOS TV by LG was created to thwart the threat posed by a much-rumored revamp of the Apple TV.
Currently, the television market is dominated by small set-top boxes and media console add-ons. Microsoft is also attempting to capture the living room market with the Xbox One. It uses an HDMI pass-through port to allow users to switch channels and browse for shows using their voice.
LG is due to unveil the WebOS TV during the Consumer Electronics Show next week.