This is What the Sony PS4 Looks Like
At it's pre-E3 press conference Sony finally unveiled the hardware of the PlayStation 4, showing the black box that gamers can expect to put under their TV later this year.
The PlayStation 4 looks like a large parallelogram made of mostly matte black plastic with a small section of glossy black plastic. From the front the console looks almost like a more angled Xbox One, though from the images Sony's console looks slimmer than Microsoft's futuristic VCR.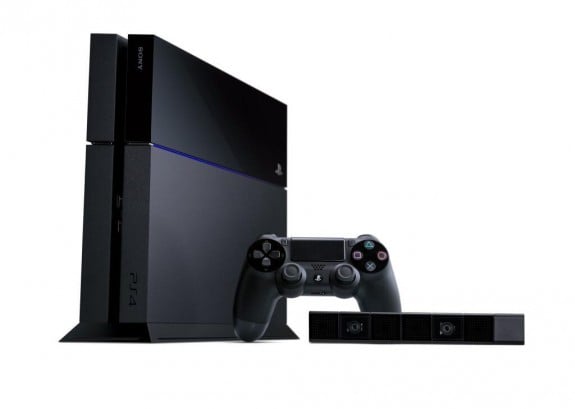 Like every PlayStation console since the PlayStation 2, Sony designed the PlayStation 4 to either lay flat or stand up. The design makes it easy to fit the new video game console into almost any home entertainment center.
Sony claims the PlayStation 4 console is a box that anyone would be proud to own, though that is up to individual gamers who may buy the new console.
Inside the PlayStation 4 will use a custom AMD Jaguar processor that's very similar to the processor inside the Xbox One, though slightly faster. The PlayStation 4 will also have 8GB of DDR5 RAM, which is faster than the DDR3 RAM found inside the Xbox One.
Every Sony PlayStation 4 will ship with a PlayStation Eye for motion gaming with the PlayStation Move controller. The Eye will also track the light on the back of the new DualShock 4 controller. Sony hasn't yet discussed what new features the PlayStation 4 will have when compared to the current PlayStation Eye.
The DualShock 4 controller of the PlayStation 4 will look familiar to gamers who are familiar with any recent PlayStation console or controller. The controller looks very similar to past PlayStation controllers, but with some redesigned sticks and trigger buttons. The new controller also adds a touchpad to the classic Sony gamepad and a Share button that makes it easy to livestream games to friends online.
The PlayStation 4 will comes to stores in time for the 2013 holiday season.

As an Amazon Associate I earn from qualifying purchases.