This Is Why There Aren't Any Destiny Reviews Yet
With Destiny, Bungie's highly anticipated first person shooter and online role-playing game, arriving tonight at midnight, understandably many potential buyers are wondering where all the Destiny reviews are.
A blog post added to Bungie's website last week reveals why there aren't in Destiny reviews and why the developer thinks that sort of forcing gaming journalists to wait until every other Xbox One, Xbox 360, PS3 and PS4 player has the opportunity to play too.
According to a passage in last week's Weekly Update, there aren't actually any Destiny reviews available at gaming websites like Polygon or IGN because Bungie practically forced a different type of situation on reviewers than they're used to. "After thousands of internal playtests, an internal Alpha, and a public beta, we've also learned that Destiny isn't Destiny without the most crucial component to our living, social world: You," the blog post reads.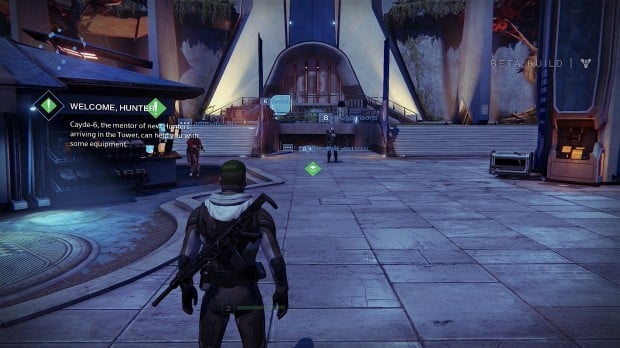 Since Destiny is such a huge online multiplayer experience, Bungie goes on to note that there was no way they'd be able to create a realistic life-like experience before Destiny arrives on store shelves. The company would have been able to deliver the game to reviewers early, but allude to an early release for developers just not giving off the social feel users can expect when they buy the game. Apparently, Bungie didn't want to risk putting review copies of the game in journalists' hands and getting a ton of Destiny reviews all saying the game is somewhat boring or disingenuous because it doesn't feel alive.
On the surface the reasoning makes sense. Reviews can make or break a game as hyped as Destiny. By acknowledging that they couldn't create a pre-launch experience as robust as what people would get on launch day, Bungie is fulfilling its obligation in making sure that conditions are optimal for reviewers. Normally, developers and publishers begin sending out copies of titles for gaming outlets to review a week or so before release day. The idea is that this time will allow reviewers to experience the single player campaign and multiplayer modes for themselves and then base their review on it. Mostly, this works out with single player and games with light multiplayer modes.
Destiny is a gigantic online-role playing game for the Xbox One, Xbox 360, PS3 and PS4 masquerading as a first-person adventure game. Like Bungie's past games, Halo Reach for example, users take on enemies with all sorts of weapons, abilities and fire power. Destiny also heavily focuses on multiplayer social stuff. Users create completely customized characters. Players will actually see other players in the online experience walk past them. It's hard not to imagine that an early release of the game for just reviewers would look pretty barren and reflect poorly in Destiny reviews.
There's a more sinister argument for holding back Destiny reviews too. Typically, waiting this close to a game's launch to let early reviewers post their thoughts on a game is used to keep potential negative sentiment to a minimum. In doing so, publishers force reviewers to wait before sharing their opinions. In theory, this keeps those who've pre-ordered from cancelling before release day and makes it more likely that those with a pre-order will still pick up the game and experience it for themselves.
Read: Destiny Release Date: 11 Things Buyers Need to Know
To be clear, there's no evidence that this latter argument is why Bungie truly forced reviewer's hands. In fact, it's entirely like that we'll seem Destiny reviews surface the moment the game launches tonight at midnight. It's also worth noting that Destiny review discs went out to journalists on Friday, the problem is that servers didn't' go online until this morning. That being said, responsible outlets seem to be holding off. Reviewers and staff at Polygon have already confirmed that they won't be rushing to publish their Destiny review just for the sake of having one available on launch day.

This article may contain affiliate links. Click here for more details.