This Self-Driving iCar Was Not Designed By Apple
Researchers have built a self-driving car where the driver is none other than Apple's iPad tablet. Unfortunately, though, this iCar concept is not built, designed, or made by Apple, but is part of a research program on self-driving autonomous vehicles at Oxford University in England. But unlike other self-driving cars, like those developed by Google, the Oxford team's car is based upon human interaction with the vehicle. If the vehicle knows the route, then the driver can set the car to auto-pilot. Interaction with the autonomous engine is handled through Apple's iPad tablet, which provides the instructions and the UI for human drivers to interact with the system.
The system is being tested right now in a Nissan Leaf car with a fourth generation iPad with Retina Display.
And unlike autonomous projects in the past, the car designed by the Oxford team is not only based on GPS, but includes a number of discrete sensors. The sensor-based aided navigation comes just as another research team recently announced that it is using sensors, such as the accelerometer and gyroscope, to more accurately map location data. By incorporating information from the accelerometer, such as speed and acceleration, the navigation unit would be better able to pinpoint location data even if GPS signal is lost, such as going through a tunnel or in urban settings where signal may be obscured by tall buildings.
Professor Paul Newman says that lasers are also employed to help map the car's surrounding and compare that with existing maps.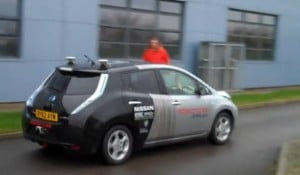 "Our approach is made possible because of advances in 3D laser mapping that enable an affordable car-based robotic system to rapidly build up a detailed picture of its surroundings," Newman said. "Because our cities don't change very quickly, robotic vehicles will know and look out for familiar structures as they pass by so that they can ask a human driver 'I know this route, do you want me to drive?'"
Human drivers will control the entire system with a mounted iPad tablet, including braking the vehicle if necessary, according to a report on Apple Insider.
Unfortunately, though, this technology is still expensive. The goal is to get the system down to £100 from the £5000 cost of the prototype today. However, one of the benefits of an automated car is that it is always monitoring the environment, which may add to safety. It's always monitoring for road blocks, pedestrians, stopped cars, and is more attuned to roadway conditions than a distracted or fatigued driver.
Apple has also been rumored to be exploring new ways to enter the vehicle market. More recently, Apple had announced its Siri Eyes-Free initiative that would bring voice recognition to the car, but likely Apple has plans for deeper integration in the future. Steve Jobs had said before that he would love to enter the automotive space, and Tim Cook most recently said that his company is always exploring new product categories. It was also revealed recently through a patent application