Thorough review of the Sprint Overdrive 4G mobile hotspot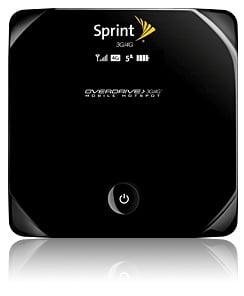 The Mobile Gadgeteer Matt Miller, one of a handful of people I believe could use all five connections on a mobile hotspot just by himself, has completed quite a thorough review of the Sprint Overdrive, a mobile wifi hotspot with 4G connectivity and a lot more.
The device looks like a more advanced version of the Mifi. Not only does it connect to Sprint's 4G network, enabling faster mobile Internet connectivity, but it also offers GPS, providing geolocation to connected computers, and a microSD card slot to share data among connected devices, great for simple, local file sharing.
Matt paints a bright picture of the device. Quite frankly, I don't see how you can go wrong with a device that provides your computers and handhelds with faster connectivity, GPS location, and local file sharing, in addition to being a mobile 3G hotspot. The next Mifi will need to step it up a notch.
One downside he mentions is the battery is advertised at 3 hours vs. 4 hours on the Mifi, not surprising given the faster connection and GPS. The battery is swappable, but then you'd need a spare battery and charger. Since it charges via USB, I think a USB battery pack would be a better solution.
Check out Matt's review for the full story, including his speed tests and daily experience. It's a good read.

As an Amazon Associate I earn from qualifying purchases.