Thoughts After a Day of Apple Update Frenzy
Remember the days of old when upgrading a computer used to take a day if not more? Of course if you're a gadget geek and you had multiple computers to update then you were looking at a considerable time investment to get things up to speed with whatever the latest and greatest. I used to mark those on my calendars and clear the decks of work to make them happen. Well, the thinking goes that we are all headed down a path to multiple devices these days. And if you're updating one or two mobile devices when an update first comes out you can find yourself falling prey to slow downloads due to the crush on the distribution servers, as well as the foibles that always seem to leave you wondering if an upgrade is actually working correctly or not.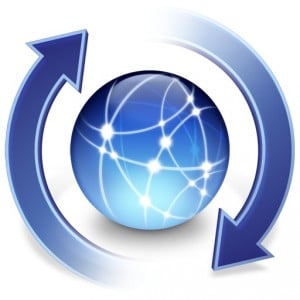 I know I'm an usual part of the mix because I have so many gadgets. Yesterday's big news was that Apple rolled out iOS6 for its iPhone, iPad, and iPod Touch devices. But, like last year, Apple also rolled out an update to to OSX (10.8.2). And as as become ritual, this means that we see Apple and others roll out a slew of App updates in the process. To tell you the truth, it can seem overwhelming regardless of the number of devices you are updating.
Let me say this, I don't envy anyone at any company in charge of making sure this kind of update process goes smoothly. There are so many variables (and in situations like an iOS update) so many users that I can imagine all they can really do after the planning is to hold their breath, say some prayers, cross some fingers, and take a stiff drink right after they hit the switch to go live. There are going to be problems. The first several are quickly going to be all over the Internet like wildfire. The only thing more predictable than gadget rumors are reports of updates that have gone wrong.
I was faced with a crossroads decision as this latest update date hit the calendar. I'm about to go into a few weeks of intense work. Usually when that occurs I eschew updates until the project or projects are complete. No matter the planning, no matter the efforts, something always breaks somewhere with an App or an update. And that's not good if the breakage slows me down. But I have a few days before life gets really hectic, so I thought I would dedicate yesterday as the day to get the updates done, allowing me enough time to roll things back should a problem arise before work heats up.
Now, like I said, I was looking at a number of devices that were subject to Apple updates. An iPhone 4S, a new iPad, an iPod Touch, a MacBook Pro (2011), an iMac (2011) and a MacMini (2011). In addition to that I had purchased an Airport Extreme router to install at home. Yeah, I like Apple products. By the way, on Monday I choose to wipe my Nexus 7 Tablet and start over from scratch, having fallen victim to that less than 3GB of storage flaw affecting performance. So, this has been a week of updating. Here's an interesting link about comparing updates between Apple and Android from James Kendrick who not only updated his Apple gear but also his Nexus phone.
The good news from yesterday?  By the end of the day (about 11:30 last night) everything was updated and seemed to be in working order. Was there bad news? No. All in all things went relatively smoothly, if not slower than I expected. But there were a few bumps along the road and a few curiosities have popped up that are worth mentioning.
Prepping for Update Day
First, let me talk about my preparations for all of this updating. If you don't know by now, the first thing on your check list should be to make sure everything you're updating is backed up. If you don't and something goes wrong, you only have yourself to blame. On iOS devices Apple offers two methods of backing things up: to a computer or via iCloud. In normal usage I back things up to iCloud, but as an update nears, I turn that feature off and revert to backing things up on a computer. There are two simple reasons for that. I control the backup files not Apple. I can make copies and set them aside if I need to revert. Second, the crush on bandwidth during one of these update frenzy days is enormous. Why subject myself to slower restore times?
Second, I use these prep periods as a cleanup time. If there's and App I haven't used, I get it off of the device and out of the backup. Thankfully I can always restore it later. I also remove large Apps like games and Apps with heavy content from the devices. I do the same with any video or podcast content on the device. These are usually large files and removing them can speed things up if you have to do a restore. As we discovered yesterday for those who have a 16GB capacity iOS device they quickly needed to remove some content in order to have 2.5GB available on their device before they could update their devices. I only keep my crucial Apps on the device. I snap pictures on my iOS devices of folders and their contents so that I have them to refer back to once I get back to restoring Apps. I offload those pictures to one of my Macs as a reference (Photo Stream makes this easy to do.)
Although it wasn't announced, I anticipated that Apple would release an update to OSX, and so I also made sure that I had the Macs backed up as well.
So, I was cleaned up, backed up, and ready to go. Apple threw the switch and I started Update Day. Now, during a business day I never do an update to my iPhone. I get too many calls and text messages to do this. For an iOS upgrade I always start with my iPod Touch. It's the least crucial device and if something goes wrong, I'm only out some listening in my car until things get corrected. So, I started that over the air (OTA) update. By the way, it is always a good idea to have your device plugged in to power while doing this.
The Myth of Mobile Device Updating
There is a myth that is based partly on the semiotics of the word mobile and partly on slick marketing about updating a mobile device. The two market leaders Apple and Android both allow OTA updating. It all sounds so simple and easy to update the OS and also pull in your Apps, but in truth you are at the mercy of your connection and the server load from whence the update is coming. If you're transferring Apps and Data to a new device (like so many new iPhone 5 owners will be doing in about 24 hours or less, restoring that data also puts you at the mercy of the size of the content you're moving from the older device to the newer device.
The iOS 6 process started on the iPod Touch. I watched the estimated time waffle back and forth from 17 minutes to 2 hours and knew the servers were getting pounded. Using another WiFi network I started to update the iMac. That completed in decent time. The iPod Touch was still updating. I started the update process for the MacBook Pro. That completed. The iPod Touch was still in process. So, you can tell what most folks were interested in yesterday. The bottom line? I updated two Macs in less time than it took me to update the iPod Touch with iOS.
Problems with iPhoto
One of the benefits of locking myself in to the Apple ecosystem is that Apple works hard to make its products work together. I still don't think they've found a suitable Cloud solution for photos yet. If you want to work with your photos on a desktop or laptop, you know you're tied at least to iPhoto with your iOS devices. (Some may use other solutions.) After the OSX updates were complete I noticed in the iCloud settings that I would need to update iPhoto before I could get Photo Stream working. Checking with Apple there was no indication that an update was forthcoming, but history told me it would just be a matter of time. Sure enough, an iPhoto update appeared later in the day.
On all three Macs, after updating iPhoto I got the same error message you see in this photo below telling me I needed to repair iPhoto permissions. I can't think that was planned behavior on Apple's part. There is an easy fix to the problem. Close iPhoto, and reopen it holding down the command and option keys. This will repair the permissions and things appear to work as they should with things arranged a bit differently in iPhoto.
The intriguing thing here is that this kind of integration on Apple's part probably makes any plan for updating even more complex. While I'm sure there are folks who use their iOS devices without attaching them syncing anything to a computer, I'm still in the camp that does. So, I'm guessing these types of multiple roll outs are something we'll be living with in the future.
The iPod Touch took about an hour and 20 minutes to completely update. Once it did, I started the iPad down its road. Again, that took about an hour and 20 minutes to run and complete.
Moving On
In case there are any Android users still reading this decidedly Apple post, just for your information, I used the Nexus 7 throughout the day to keep abreast of things that I needed to and to get some work done. :)
When I returned home in the evening I had a choice to make. Update to the new router or update the iPhone with iOS 6 and the MacMini to OSX 10.8.2 over a network that I knew worked. I decided to walk the bleeding edge and update the router first. Let me tell you, this was the easiest switch of a router I have ever experienced. Name the network, set up a password, and you're off and running. Everything reconnected (I used the old network SSID and password) without a hitch.
My wife wouldn't be home for a some time and knowing her propensity for sending me constant text messages I moved on to the MacMini. That update went off without a hitch. After my wife arrived home I moved on to the iPhone update. Again, that took about an hour and twenty minutes to complete.
So, almost at the end of a long day, I had updated 3 macs and 3 iOS devices. All seemed to be in good working order. Keep in mind though that sometimes problems with OS updates (and App updates) don't always appear at the get go and it takes some times to really shake things out.
That said, here are some observations that I've noticed after my day of updating frenzy.
All my devices seem snappier and cleaner. That's somewhat typical after an OS update, but I'm noticing the improvement more on the iOS devices than I usually do.
I did not experience any of the WiFi bugs that others did during the day yesterday. A friend of mine did though.
There are quite a few complaints about Apple's version of Maps versus Google's. Anyone surprised? This is version 1.0 App compared to the years of experience Google has put into Maps. Apple is probably getting the knocks it deserves regardless of how that decision came down. That said, I'm pleased that here locally things seem to be pretty accurate (in limited testing) on the Apple version. I didn't expect that as I watched all the complaints roll in, given that I live in an area that usually sees these kind of things lag. Personally I don't get the flyover feature. I'm sure it took quite a few development resources to make that work well. For those complaining of inaccurate or incomplete Maps, I'm sure they would have rather seen Apple spend those resources on those issues.
Siri is still in Beta. That's a real puzzler to me. Siri now has some of the features it had before Apple bought it and took it over. The server delays are still sporadic and troubling. Having it on the iPad is nice, but I can't imagine that's going to help the server delay issue. I do like that i can launch Apps with Siri now.
Notifications across Apple devices now make a bit more sense after these updates. I guess Apple should have called the OSX notifications "Beta" when they rolled out earlier.
There's a bizarre inconsistency between iTunes and Apple's podcast App. The only podcast I didn't delete was the one I'm currently listening to on my drive back and forth to work. While a big notice comes up that podcasts are now located in the Podcast App when I launched the Music app, the Now Playing feature still yielded that podcast. I still think Apple has some work to do on this App to make it useful. Fortunately there are other solutions.
Sharing Photo Streams is a nice addition. It is not a substitute for having a native solution for storing photos in iCloud.
Some (not all) music that I store only in iCloud insisted on downloading to all of my iOS devices. Not sure why. The sources of the music is question are all over the map. I'll probably have to do an iTunes Match reset to get that figured out.
This is probably too early to judge, but I'll venture this premature judgement. I use my iPad heavily in the morning. I've always felt (this is a new iPad) that the battery drain in that first hour of coffee drinking was too quick. (Usually it would drain between 10 and 14%). If I topped off the iPad after those sessions the battery would drain much slower, even in heavy usage. This morning, the iPad battery drained at a much slower rate with the same heavy usage pattern.
Facebook integration may be nice, but unless you want Facebook streams and birthdays filling up your notifications you might want to think twice. Also note that there is a real problem if you choose to Update Your Contacts with Facebook. And this is one that isn't easily solved. Awhile back, Facebook changed quite a few folks default email addresses to [email protected]. If they haven't personally corrected that, and you choose to update your contacts with Facebook, that Facebook email address will replace any email you may have for them already in your contacts. This has to be fixed by the Facebook user (or Facebook), so know what you're getting into here. I personally have chosen to not allow Facebook to access my Contacts or my Calendars.
I try to resist updating Apps after an OS update as long as I can. I will do the crucial ones. But I like things to settle in a bit before I start loading up a device again. I noticed before I turned in last night that on the MacMini (I have Apps downloaded on both the MacBook Pro and the MacMini so I have a backup) that I had 162 updates available. One night this weekend I'll hit the Download All button late at night and bring them down. But, wow. I have too many Apps, many of which don't appear on any device anymore.
Hopefully by the time my work gets really hectic, I'll have worked through any kinks that I haven't discovered yet or won't without a day or two of actually using these devices the way I normally do.

As an Amazon Associate I earn from qualifying purchases.