Thoughts Before Microsoft's Big Announcement
I'm guessing somewhere in Los Angeles there are a lot of Microsoft executives experiencing quite a bit of anxiety this morning. I know the feeling. I once sat and cringed during an opening night curtain speech for a show I directed when the producer making the speech told the audience that the show was going to change their lives. Talk about setting expectations, this guy doomed the opening night response to the show. Later today Microsoft will make some sort of "you don't want to miss it announcement" in an as yet unnamed location in the City of Angels.  Speculation is all over the map on what it will or won't be and the way Microsoft rolled out the invitation has scaled expectations to the level of incredible. The scuttlebutt is about everything from Microsoft unveiling a slew of third party Tablets to Microsoft getting into the hardware biz and unveiling a Microsoft branded Tablet. Other speculation has Microsoft unveiling some sort of media Tablet in partnership with Barnes & Noble, aiming at Amazon's Kindle Fire. Of course there's talk of all kinds of entertainment options and Xbox integration. And dangerously, the announcement could have absolutely nothing to do with Tablets. No one really knows.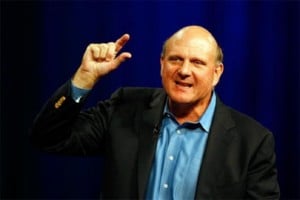 Whatever the announcement will be, Microsoft managed to raise the stakes with the timing, (between Apple's WWDC and Google's IO conferences,) and all the cloak and dagger surrounding the announcement. Some, myself included, are already saying Microsoft may have pushed the envelope a bit too far with the last minute, no-location attached invitation. My thinking on this is simple. Heaven forbid that Microsoft isn't going to roll out some sort of Tablet announcement. By setting the stage the way Redmond has, speculation has been allowed to run rampant to such a point where some sort of Tablet announcement seems to have become almost conventional wisdom. If it isn't some sort of Tablet, this will rank up there with Geraldo Rivera's opening up of All Capone's vault. Microsoft will have to answer for that with a host of angry bloggers and media types who bought into and repeated the speculation. On the other hand, it will be quite humorous to see the backtracking on all the predictions and speculation, even with the brickbats that would be tossed Microsoft's way.
If the announcement is Tablet focused, it had better be a doozy. Personally, I don't think we're going to see a parade of OEM Tablets, as we've already started to see some of that from Computex. If, and I think this is a very big if, Microsoft does decide to get into the Tablet hardware biz, that move will be as risky as the announcement strategy. I'm not saying risk is a bad thing here, I'm just saying it will be a risky move. And actually it would be a risker move than Microsoft has made in quite some time. To the point of being out of character. But maybe that's the point. Go big or go home?
An announcement of some sort of partnership with B&N makes logical sense on many levels. Keep in mind that Microsoft and B&N announced a strategic partnership back in April called Newco. But unless Microsoft wants to just get into a shooting war with Amazon I don't see why this effort needs a new device when embedding the fruits of that investment with B&N across the Windows RT and Windows 8 line would avoid the risk of Microsoft creating a new device. B&N continuing its efforts is another matter, though. Announcing any new device at this point in the roll out cycle of the new flagship OS(s) also seems to be odd timing. But who knows how that Newco arrangement is playing out. B&N does control over 80% of the arrangement. (See UPDATE below.)
When I made my predictions for 2012 I said that Microsoft and Windows 8/RT would be the big news this year. I still think that is accurate. Yeah, Apple has announced some stuff, with more to come. Yeah, Google will be announcing some stuff at the IO conference. But honestly, with both Apple and Google what we have seen and will be seeing is more of the same of what we've been seeing during this most recent period of mobile tech. We know quite a bit about Windows 8/RT and Windows Phone. But the point here is that with Microsoft being so far behind on all fronts mobile, and taking its time to re-imagine what it will offer, the expectations are huge. No, amend that. The expectations are beyond huge for the folks in Redmond. In fact, I would argue that the success of the Windows 8/RT platform and how Microsoft rolls it out will be a turning point. How it all eventually turns out is really a flip of a coin. But that coin flip is going to be the story to watch this year and next.
As I hope I've made clear, I have no idea what Microsoft is announcing today. Because I'd like to see Microsoft have a big success with Windows 8/RT, I hope that today's news won't gum up the works that are already in place. Microsoft, unfortunately, has a track record of stumbling when the spotlight is focused where it wants it and self-inflicted wounds are always the most painful. Maybe today will change that. But then again…
UPDATE: According to the Verge, Barnes & Noble is saying it won't be a part of any Microsoft announcement today.