Thoughts on iPhone 3.0 OS on the iPhone 3G After a Day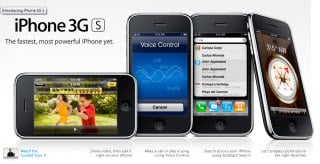 A quick rating? I'd give Apple a thumbs up for the new iPhone 3.0 OS and for bringing the iPhone platform closer to living up to what other platforms have been offering for some time.   Given that this Friday morning folks are going to be standing on line (maybe, maybe not) awaiting the new iPhone 3GS, I thought I'd share some of my thoughts about the new OS and how it works on the iPhone 3G.
Basically, I'm very pleased. I'm not jumping up and down excited, I'm just very pleased. As I said in this week's podcast, by and large the new OS makes the already pleasurable to use iPhone feel even more so. Of the many new features the ones that I have been using in the first day are listed after the jump, along with a couple of interesting observations.
Search: Throwing Spotlight in as a search tool was a good idea. I have a feeling this will become not only a tool to search for data, but also a way for me to launch apps. It is clean and it works.
Cut, Copy, and Paste: It works like you've seen it work in countless videos and it is a nice addition that should have been in version 1. Being able to copy pictures is a real plus for how I use the device.
Voice Memos: This is a nice feature that will replace several apps I've been using to do the same thing. It won't replace Evernote completely, but I imagine I will use this to record voice memos instead of Evernote.I can listen to a memo played back over a BlueTooth headset in this app but not in Evernote. (You can see the BlueTooth/Speaker icon in the picture on the right.) On the 3G I can't record a memo over the headset. Maybe that will be different on the 3GS. We'll have to see. (For some more on BlueTooth on the iPhone see this post.)
Push: I'm not a big Push fan. I like to deal with info and things when I want to and not when they want me to. I've turned Push on to check it out, and all seems to work well.
Shake, Rattle and Roll: The new Shake to Undo or Redo feature and to also shuffle a play list is nothing more than a curiosity for me at the moment.
Speeding up and Slowing Down: The phone feels snappier with 3.0 installed, but that may be because it is a new install. We'll see over time. Performing a backup when syncing though is deadly slow (I've seen others mention this and others have no issue so mileage may vary here).
Moving Icons Around: This is definitely easier as you can now hold down a jiggling icon and move it across several screens as opposed to one screen at a time.
Landscape keyboard: All I can say is yes. It's about time.
Adjustable Playback Speed: This will come in handy for podcasts and audiobooks. I haven't really spent much time with this feature, but I know it will be a boon down the road.
Battery Life: I'm noticing that I have better battery life with 3.0. Others are seeing this too. Some are seeing the opposite.
As far as these features go they do the job. Some should have been there from the beginning but they are there now. None is an earth shattering new innovation in and of itself. But I think what Apple has done is give developers even more to play with and I think we'll be seeing some really interesting Apps down the road. I think that's the real promise here for those who are going to continuing to use the 3G vs the new 3GS.   At $99, you'd be getting a terrific MID and phone combination.
As for the iPhone 3GS, I've managed to fall within AT&T's new guidelines for the $299 upgrade price. And thanks to Xavier for pointing me to Gazelle.com and my willingness to part with the 3G and a few other gadgets, I'll be able to pick up a new 3GS for just about $0.00 once all is said and done. That makes it a no brainier in my eyes.
So, while you're reading this, I'll be heading to the local AT&T store and attempting to pick up a new iPhone 3GS. I drove by the local AT&T on my way home from work on Thursday night around 11pm and there was no line there yet. So, maybe I'll get lucky. I'm most interested in the new video features and what that will bring. So, here's hoping.

This article may contain affiliate links. Click here for more details.