Thoughts on iPhone 4 Release Day: Bleeding Edge Adventures
I guess this will be one for the record books anyway you look at it. After suffering from having the device exposed by a possible theft, a meltdown during the keynote debut of the device, a massive collapse of the pre-ordering system that still didn't keep a record setting 600,000 new iPhones from being ordered, and what appears to be several Version 1 issues with a 4th generation device, Apple still whips up a storm when it comes to putting its devices on sale.
I was one who couldn't get through to pre-order and have a device shipped, but you might recall, I picked up a tip off of Twitter and reserved a new iPhone to be picked up at the Apple Store in Short Pump, Virginia, just outside of Richmond. I was already scheduled to be in Richmond today to meet with my Mom and her Hospice nurse, so the timing made some sense.
This was my second stand in line at an Apple Store experience. At least this time I had a reservation and was assured of a device. The last time I took a gamble and lost out when the 3G was released. I now prefer to have devices shipped to me, assuming I can get through to order. I'm one who thinks the ordering, stand in line experience is getting a bit stale, but those around me in the crowd sure didn't seem to think so.
The line at Short Pump for those who reserved as huge. I was about 70 folks deep in the line when I arrived at 6:05. Mall Security wouldn't let the line form until 5:30 so most of these folks spent time in the parking lot. I have no way to estimate the number of people in line as it snaked through courtyard after courtyard. The line for those who did not have a device reserved was equally long when I arrived, but it was on the other side of the mall and not visible to me. Two spots behind me was a part time Apple Store employee who said he had left at 3am after setting up the store. The guy looked a lot like a Steve Jobs clone. I wish I had taken a picture of him, and he was as good a salesman as Jobs is. He was in line to get his phone, the only way he could do so. The chatter was mostly about the issues we have all heard and read about. Yellow spots on the screen, signal strength being diminished by holding it in your left hand and Gorilla Glass that would crack after a drop. Just about everyone had an earlier generation iPhone in their hand, and you could tell by folks' constantly mentioning the return policy that there was some nervousness among the crowd over the issues as they were being reported. Folks were checking feeds and sites constantly. No one believed the 38 hour battery claim that Engadget put up. After starting back home from Richmond about 10 hours ago, I'm not buying it either based on what I'm seeing. And yep, Apple Store employees brought out water, coffee, and brownies. The mall's Chick-Fil-A brought out small chicken biscuits.
After the store opened to whoops and cheers precisely at 7AM, it took me just under two hours to get through the line. I was escorted into the store by an employee, who checked my name, verified the device I reserved, asked if I wanted a bumper enclosure or a dock, and then said he would be right back. I picked up the bumper enclosure, paid my bill, watched as the phone was activated quickly, and was in and out of the store in less than 10 minutes.
Leaving the mall I noticed the non-reserved line was considerably smaller and was told that store employees had told them how many extra phones they had in stock, so many folks obviously left.
So that's that experience.
Early Impressions of the phone
I didn't have much time to test things out until I got home later today, given my previous arrangements. Although I did manage to try a Face Time call with Sumocat when I stopped for gas. I also noticed on that stop that I could duplicate the mysterious disappearing bars and signal issue. On returning home, after having to get some work done, I experimented further. In my experiments then and later, everything you see in the videos and read in the accounts is accurate and easily duplicated. The Bumper does indeed remove the problem. Maybe that's why they are being sold by Apple.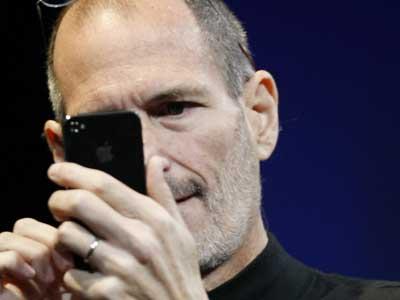 I'm as baffled as Sumocat is by this as I think there is more than an easy answer to the problem. But then maybe that's why Jobs had a problem at the keynote. Notice in the picture how is left hand is holding the device. (That's actually a joke, as he said he was on WiFi and from what I'm reading the issue on the new phones is with 3G.) Bottom line on this for me, is Apple needs to make a statement about this pretty quick, regardless of what the issue is. A phone that loses a signal when you hold it is, well, let's just call it alpha hardware. I can't imagine this didn't get caught, but perhaps that's one of the problems with being so secretive with devices. Intriguingly Boy Genius Report is saying this might be software related, as 3G and 3GS owners can also duplicate this. I just have a feeling it is a combo of issues, but I'm no technical wizard, just a bleeding edge gadget junkie.
My device has no yellow spots that I can find, which is good. (I actually asked the salesman about that and he feigned ignorance). I'm hearing that they may disappear with use for those who do have them, as it has something to do with the adhesive holding the layers of the display together. Apparently these things may have been packaged up before the adhesive was dry, if that is indeed the situation.
There are also scattered reports surfacing about camera issues, but I'm not seeing that. As an early report, the improvements in the camera are immediately noticeable and welcome. I've included a few pictures below in a gallery. The car interior and storm are taken with the new iPhone.
I'm impressed but not as blown away as I thought I would be by the Retina Display. Comparing it in sunlight and interior settings to the 3G, you certainly see the difference, but to my way of thinking, it isn't a reason to get the phone or upgrade. Nice, pretty, but that's about it.
I'll have more thoughts as I use the device more, but one thing I will say: For this being just a phone, it sure has created a circus and I'm sure the issues we're hearing about will dominate the Internet for some time to come.
UPDATE: And wouldn't you know it. Just a few minutes after hitting publish on this post, Apple has released a statement about the left-handed signal issues:
Gripping any phone will result in some attenuation of its antenna performance with certain places being worse than others depending on the placement of the antennas. This is a fact of life for every wireless phone. If you ever experience this on your Phone 4, avoid gripping it in the lower left corner in a way that covers both sides of the black strip in the metal band, or simply use one of many available cases."
Well, I'm not quite so sure how well that will go over, truthful or not as it may be. I'm guessing not too well. At least base on the guffaws I just let out when I read it. I'm sure the comedy writers are thinking the same thing.