Thoughts on the Apple iPad 2 Announcement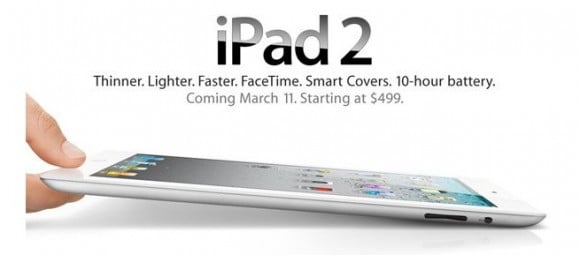 I just finished watching the streaming version of Apple's iPad 2 announcement. Too bad they didn't stream the actual thing live. But then perhaps that fits with the expectation mindset that says this was to be an incremental upgrade. Well if the iPad 2 is an incremental upgrade it is one that basically trumped any of the other Tablet makers and wannabes. Let me rephrase that. Apple basically kicked dust in the faces of all those who want a piece of the Tablet action as it speeds further into the lead. We've got to see the iPad 2 up close and in action, but if this 2nd generation lives up to Apple's legacy, I'm sure there are plenty of folks at HP, RIM, Motorola, Samsung, Google, and quite a few others who are quite depressed. Is it game over? Not quite yet in this ever changing world of mobile tech, but the rules of the game continue to be written by Apple and in very, very bold strokes. And he who writes the rules….
The specs, the accessories, the iOS 4.3 updates have all been chronicled here and elsewhere so I won't go into much detail there, but as I said in a post this morning Apple isn't just winning with its technology and innovation, it is winning with its vision. Here are some of those bold strokes: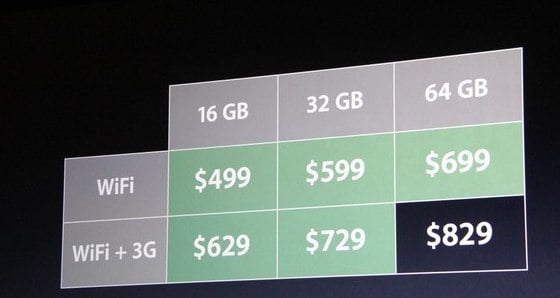 Price: This is where Apple will reign for some time to come. Like it or not $499 sticks in the mind and as the graphic from the announcement showed in a big swipe at Motorola, there's only one price point where Apple isn't winning on that chart. Keep in mind we've still got some Tablets to come, but given what we are hearing, Apple will own the price point war at least for the foreseeable future. Not only will they own the price point, but I don't think anyone can compete on the profit margins either. And think about this. Already you're seeing 1st gen iPads up for sale as folks scramble for the cash for iPad 2. Apple dropped the price on the first iPad to $399 which is pretty amazing. But all those 1st Gen iPads going up for sale are going to be in quite a few new users' hands for less than $399. Those are users' hands that aren't going to be buying a competitor's model.
Availability: Let's see, come March 11 there will only be two Dual Core Tablets on the market. Apple's and Motorola's. RIM is coming along in April. HP, well, let's just say we don't know what summer really means. Motorola tried to jump out in front and we've all seen quite a few reviews filled with "not ready yet" comments. Can you say, "Oops." Meanwhile the iPad 2 is, well, it is the 2nd generation of a well established winner.
Battery Life: Still 10 hours. Others are coming close to that. But has anybody beat it? I don't think so.
Speed: Engadget's hands on videos made this think look like a speed demon with the new A5 processor. With a promised 9x improvement on graphics, Apple took something that wasn't shabby at all (the first iPad) and dramatically improved it.
Ecosystem: Apple's App Store advantage is so well chronicled that it is almost unfair to mention it. But Steve Jobs made a key point about the Apple Store and the role it has played in the iPad's success (as well as that of other Apple products.) No one can top that advantage. Another ecosystem point, all Apps and websites will be able to use AirPlay streaming for those who play in that realm. If this isn't a key indicator of how far Apple's vision extends then you aren't paying attention.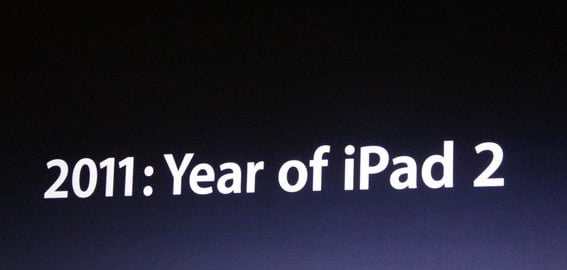 Apple also played some fun games with its language and the rumor mill about an iPad 3. Saying 2010 was The Year of the iPad, it now says that 2011 will be The Year of iPad 2. That will quell some of the iPad 3 rumors that have been bubbling up,  but then Apple under Jobs is well known for misdirection.
Apple had an runaway lead in this race.  Others looked like they were fielding possible competition. But Apple appears to have kicked some things into a higher gear with iPad 2 and is very close to lapping the field. Twice. I'm guessing that those who want to see anybody but Apple succeed here will continue to work hard to push the other competitors, but for my money nothing we now know of stands a chance of significantly cutting into Apple's lead.
Like it or not, Apple continues to set the pace and raise the bar in this game. I'll be ordering on the first day, and I know I won't be alone. All the other Tablet manufacturers are going to be watching this play out like some bad Déjà vu experience counting the potential customers they won't be seeing this year.

As an Amazon Associate I earn from qualifying purchases.