Three Guys, Three N810s, Two Weeks, One Podcast
Three of the most influential Nokia Internet Tablet bloggers got together to share their brief experiences with the new Nokia N810 Internet Tablet on a podcast. You have to love their slug line, which I've morphed a bit for the headline of this post. Reggi Suplido of InternetTabletTalk.com, Jonathon Greene of maemoapps.com and atmaspheric endeavors, and Daniel Gentleman (aka Thoughtfix) of Tabletblog.com share their views on the new device.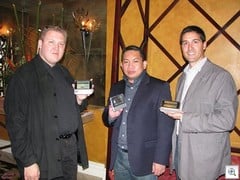 Worth a listen.

This article may contain affiliate links. Click here for more details.