Thrilling Day at the Racetrack with HP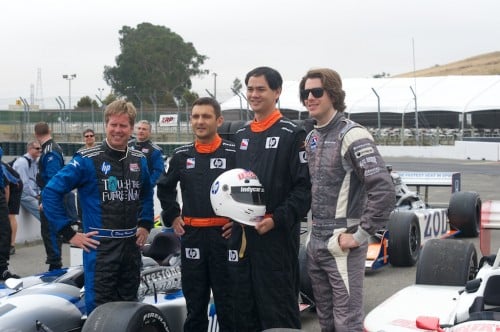 My dad and I spent yesterday morning at Infineon Raceway in Sonoma County, about a 45 minute drive from San Francisco. HP, which sponsors Luczo Dragon Racing and provides some of the technology that teams use behind the scenes, invited us up to take a look at the HP two-seater IndyCar and go for a ride. Needless to say, anytime I get to spend part of a day combining three of my great loves (technology, cars and photography) I have a great time.I'm heading back up to the track tomorrow to take a closer look at tech on the race track.

I snapped these photos with my Nikon D700 and Sigma 70-200 f2.8 lens. Even with this high-end equipment it can be tough to shoot IndyCars. While at the track I used my iPhone 4 to order a Nikon MB-D10 Multi-Power Battery Grip, which allows my camera to shoot up to eight frames per second.
The laps around the road course were exhilarating, as was standing next to the track wall and taking photos with the cars flying by at over 100mph. As you can see in the below photo, I was standing really close and could've reached out and touched the cars as they passed. Speaking of touch- the HP car and tracksuits are covered with HP's TouchSmart logos and slogans.

This article may contain affiliate links. Click here for more details.