TI OMAP 4440 CPU Joins Mobile Processor Arms Race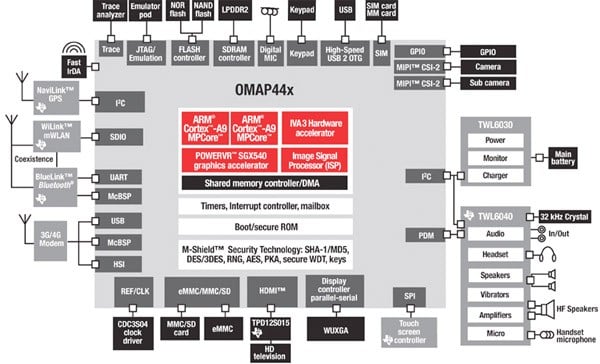 The Texas Instruments OMAP 4440 chipset is a dual-core 1.5 GHz mobile processor that is based on the ARM Cortex A9 reference design, which is also found on chips such as the Samsung Orion and dual-core Snapdragon among others. In the past, single-core TI OMAP processors have been used by Motorola on smartphones such as the Droid and offer competitive performance against Qualcomm's single-core Hummingbird and Snapdragon CPUs. The dual-core 1.5 GHz chip will be clocked at a higher speed than NVIDIA's dual-core gigahertz Tegra 2 chip, though the Tegra 2 is seemingly the first out of the gate and is rumored to be appearing in a number of tablets and smartphones for 2011, including those from Motorola and LG. As 2011 is shaping up to be the year that inaugurates multi-core mobile CPUs, TI is hoping to join the mobile smartphone arms race with an ARM reference design; with Intel the only contender in this race with its own Atom-based design.
The new OMAP 4430 is said to give mobile devices–phones and tablets–a 50 percent boost in performance. A slower 1 GHz dual-core clockspeed OMAP 4430 will also be made available, which will be similar to the NVIDIA Tegra 2.
With the new dual-core processors, Texas Instruments is also boasting a 1.25 times improvement in graphics performance, a 30 percent faster load time for webpages, and a 2 times increase in 1080p video playback performance.
These marked performance advantages, along with other feature enhancements, reaffirm the OMAP™ 4 platform's ability to drive today's most coveted Smartphone and tablet user experiences, such as 1080p stereoscopic 3D (S3D), 1080p video conferencing and gesture recognition. For OMAP4440 processor details, visit: www.ti.com/omap4440.
Graphics will be delivered by a POWERVR 3D graphics engine:
The OMAP 4 platform is a highly-optimized system-on-chip (SOC) leveraging two ARM Cortex-A9 MPCore general-purpose processors, reaching speeds of 1.5 GHz per core, complemented by two ARM Cortex-M3 cores to power-efficiently offload time-critical and control tasks. High-performance multimedia capabilities are provided by programmable cores including a POWERVR™ 3D graphics engine, TI IVA 3 for high-definition/multi-standard video, TI image signal processor (ISP) for high-quality/high-megapixels imaging, TI low-power audio processor and TI digital signal processor (DSP) based on the TI C64x DSP for natural user interface and signal processing innovations optimized for mobile applications.
POWERVR graphics solutions have been used in the past on Apple's custom A4 processor, which uses a previous generation ARM-based reference design, as well as Motorola's implementation of a TI OMAP solution on the Motorola Droid. The A4 chip is available on Apple's iPad, iPod Touch, and iPhone.
Volume productions of the 4430 and 4440 are not expected to be delivered until the second half of 2011.
Via: Engadget

As an Amazon Associate I earn from qualifying purchases.