TI OMAP4 crams crazy power in a tiny package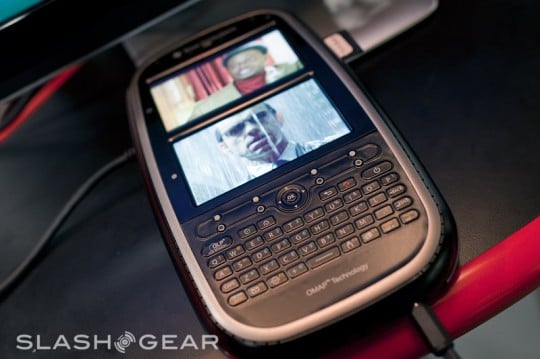 The guys from Slashgear paid a visit to Texas Instruments and got a hands-on demonstration of their upcoming OMAP4 chipset, which runs dual 1GHz ARM A9 cores and still sips power.
The demo device (which is neither a prototype nor a reference design, so don't sweat its appearance) seems to show off everything and anything device manufacturers could possibly want their gadgets to do.

TI have packed it full of just about all the functionality they envisage developers taking advantage of: it has two 3.7-inch WVGA displays, dual front cameras, a 12-megapixel camera on the back and an integrated 15-lumen DLP pico-projector. Connectivity includes HDMI, wired ethernet and USB 2.0, along with WiFi, Bluetooth and 3G courtesy of an internal daughter card, there are GPS, proximity and accelerometer sensors, and the whole thing runs Android.
It's capable of pushing 1080p out of that HDMI port and can handle three displays simultaneously, two internal and one external/projected, each drawing from different sources, and can even record and encode video at 1080p 24/30fps. It is staggering how much processing power they're packing into that tiny chipset. Hit up Slashgear for more details, video, and photo gallery.


This article may contain affiliate links. Click here for more details.