Ticket to Ride Retina Display Update Adds Board Game Quality Graphics
Ticket to Ride, one of the most popular iPad board game apps, is now the first board game app updated with Retina Display graphics. The new graphics add more details to the game's maps and make the game easier for colorblind players.
The new maps in Ticket to Ride look just like the real-world board game, adding the paper textures and illustrations that are on the board, but were too detailed for older iPad displays.
The image below shows you the difference between the board game, the new iPad Retina Display graphics, and the iPad 1 and 2 graphics. The only difference between the board game and the new iPad app is the font used for city names.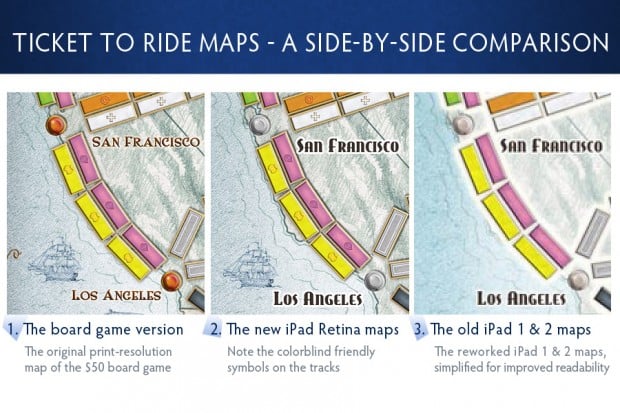 You'll also notice in the image that each rectangle track piece has a symbol on it. These symbols match up with the same symbols and colors on the game's virtual cards so they'll be easier for colorblind players to distinguish.
The option to put the symbols on the board was there before., but now users don't have to zoom in to see them.
Ticket To Ride for iPad is still the same great game, it just looks a lot nicer now.
Days of Wonder says Ticket To Ride iOS apps recently crossed the 800,000 downloads milestone. That's a lot of gamers that want to play relatively expensive board games on their tablets and smartphones.
The iPad version of Ticket To Ride is $6.99 in the App Store, and is well worth the price. It doesn't have the online asynchronous multiplayer that the iPhone version (Ticket To Ride Pocket) has, but it does have a Pass-and-Play mode so you can play with up to five friends locally as well as live online multiplayer.
Live online multiplayer lets iPad users play against other iPad users or people playing the game on the Mac or PC.