Tiered Verizon Data Plans Only for New Customers?
Yesterday, it became apparent that something was afoot in regards to Verizon's shift towards tiered data plans, a move that will likely go into effect on or around the 7th of July. Well, today, there is actually some good news to report as some evidence has surfaced indicating that only new customers will be affected by tiered data.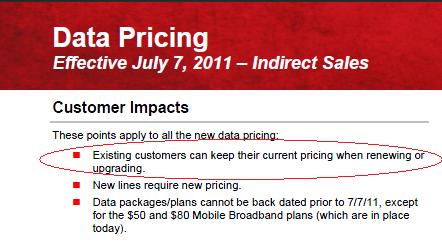 You heard correctly. According to this internal document leaked by Droid-Life, current Verizon customers will be able to avoid tiered data when upgrading after their contract has ended. This will apply only if you have locked into your contract before July 7th rolls around. The report states that this might be a forever kind of deal. That you'll be able to stay off tiered data forever as long as you keep upgrading. (We recommend that you don't read into the forever thing too much.)
However, if you want to add a new line or you are a new customer, you'll have to sign on the dotted line which will then bind you to the tiered data.
Now, don't go getting excited just yet as this hasn't been signed into stone but it's looking like it could become a reality, a small victory for those disheartened by Verizon's move to tiered data.
If you've missed all of the hoopla, Verizon is going to be introducing tiered data plans at some point soon and they are rumored to look like this for both 3G and for 4G:
2GB – $30/month
5GB – $50/month
10GB – $80/month
With Tethering:
4GB – $50/month
7GB – $70/month
12GB – $100/month
Needless to say, it's angered more than a few loyal Verizon folks and if tiered data is only for new customers, this might keep the Verizon ship sailing and keep mass mutiny at bay. And to answer our own question from yesterday, it looks like yes, it's probably a smart idea to buy a phone now to avoid getting into tiered data.

As an Amazon Associate I earn from qualifying purchases.