Tim Cook Forces AT&T to Unlock More iPhones
After we had reported that Tim Cook's office at Apple had compelled a rare exception at AT&T to SIM unlock a user's older iPhone 3GS model so that he could use a foreign SIM card when traveling internationally, it appears that more users have been writing to Cook's team to get AT&T to unlock their handsets. Unlike Apple's carrier partners Sprint and Verizon in the U.S., AT&T has historically refused to unlock iPhone models in the U.S., often citing that it was Apple who held the unlock codes.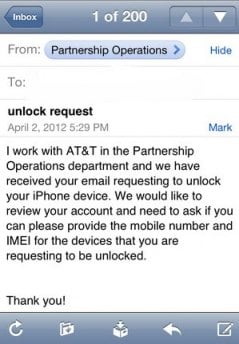 According to 9to5 Mac, it looks like users who are emailing Apple CEO Tim Cook are having some success with AT&T providing them the instructions to unlock their iPhones. It's unclear if AT&T is softening its policy on unlocking iPhone models–the carrier does provide unlock codes when requested for other phone and smartphone models. The site mentions that 'a significant number of readers' have been able to receive unlock instructions from AT&T.
Though these readers did not receive a direct response from Mr. Cook himself, they were contacted by AT&T Partnership Operations with email instructions on how to tether their iPhones to iTunes to SIM unlock the device after the device's IMEI number–which is akin to a unique serial number for the phone–and mobile number were obtained by AT&T's teams.
Customers wishing to have their iPhone unlocked are advised to email tcook (at) apple (dot) com or partnershipops (at) att (dot) com. Your mileage may vary, but if you really do need your iPhone to be unlocked, it may not hurt to ask.
At this time, it's unclear if AT&T is unlocking any iPhone models that Cook's team sends over or if it is only accommodating requests just for older models, like the iPhone, iPhone 3G, iPhone 3GS, and iPhone 4. Carriers typically unlock phones for customers if they have a legitimate reason–like traveling internationally and desiring to use a local SIM to avoid paying roaming charges–and if the customer's account is in good standing. Hopefully, AT&T will begin to accommodate iPhone SIM unlock requests directly on its own without Apple's intervention in the future, especially considering that many iPhone customers are already bound to a two-year contract and would have to pay a high early termination fee (ETF) if they wanted to unlock their iOS smartphones and leave AT&T.

This article may contain affiliate links. Click here for more details.