Tim Cook: No iPad 'Pro' Model; Windows 8's Idea of Convergence is Flawed
Responding to questions about why Apple has not released a more advanced version of the iPad slate running the company's desktop-class OS X platform rather than the mobile-centric iOS platform, Apple CEO responded that such an idea of convergence leads to too many compromises. Compared to Apple rival Microsoft, which is standardizing its Windows 8 OS experience from notebooks to tablets to desktops, Apple's strategy is more segregated and Tim Cook says that the company has no plans at this time to offer a tablet product with a full-scale Mac OS X operating system on-board.
According to AppleInsider, when Richard Gardner of Citigroup had inquired with Cook on "why you don't believe the PC and the Ultrabook and tablet markets will converge," the Apple CEO quickly responded with an analogy.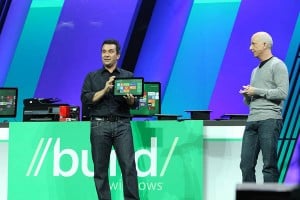 "You can converge a toaster and a refrigerator, but you know, those things are probably not going to be pleasing to the user," Cook says.
Before the iPad had launched, many had believed that Apple would adopt Microsoft's Tablet PC concept by bringing the desktop OS to the tablet, but that proved to be quite the opposite of what Apple had done. By utilizing a mobile architecture, Apple was able to deliver a low-cost experience to end-users and provide an unparalleled app store. More recently, it is Apple's desktop OS that has borrowed ideas from its mobile iOS counterparts, with notifications, messages, launch pad, and more.
Cook noted that the ecosystem is getting bigger and better, and that the iPad is now not just a consumer tablet, but one that's being used in the education and enterprise markets. The company noted that Apple sells twice as many iPad tablets to K-12 schools in the education market than it does computers, though MacBook sales continue to climb.
With Windows 8, Microsoft is trying to take on the iPad, but with a different strategy. Rather than asking consumers who want both a notebook/desktop and a tablet, Microsoft is saying you can have one device that does it all without compromise. The convergence model of Windows 8 will allow users to interact with the OS through traditional mouse and keyboard inputs as well as touch. Additionally, Apple is relying more on its iCloud cloud storage and synchronization system to position its iPad and iPhone products as being a tether-free experience where users do not need to have an additional PC as everything from activations to transferring photos can be done through the cloud.
However, Cook disagrees with that strategy and positioning that its rival is taking, noting, "You wouldn't want to put these things together because you end up compromising in both and not pleasing either user. Some people will prefer to own both, and that's great too. But to make the compromise of convergence, we're not going to that party. Others might, from a defensive point of view particularly"
In addition to high-end Intel-powered Windows slates, Android tablets are also on the climb, but have so far not kept pace with Apple It wasn't until the introduction of the low-cost $200 Kindle Fire tablet that Android was able to make any meaningful dent into Apple's market-leading iPad's market share.