Tim Cook Refuses To Answer Questions About Apple TV's Future
Yesterday during the Apple Q1 2013 earnings call CEO Tim Cook said the company sold more Apple TVs than ever before, but he wouldn't give much detail on the future of the device.
The questions about the Apple TV came from Gene Munster of Piper Jaffray, the analyst famous for calling for an Apple HDTV or some sort of new Apple TV set-top box.
Munster asked Apple to "take a step outside of the form factor debate" and talk about how important the TV market is to Apple. He also asked Apple if is can accomplish what the want to accomplish "with the reality of where content is today, and how content is distributed."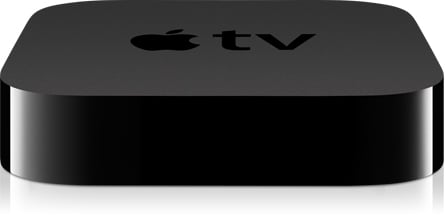 Cook responded, telling Munster "you're asking me all questions I don't want to answer but let me see if I can find some comments to make that productive." He went on to say that Apple sold two million Apple TV devices last quarter, which is more than the company ever sold. Sales for the device were up almost 60 percent compared to the year-before quarter.
Cook then reiterated his comments that TV "is an area of intense interest" for Apple and he believes that Apple has something to contribute in the space. Cook and Apple will "continue to pull the string and see where it leads us."
Beyond that Cook wouldn't get into any more specifics.
The most recent update to the Apple TV added the ability to display content in 1080p, but it still has the same basic features as the version before it. The device can play content from iTunes and a select few third-party apps and AirPlay lets users mirror content from an iOS device or a Mac on their TV through the box.
Rumors for a next generation Apple TV include subscriptions models for TV channels, Siri for recommendations, app support and a new content distribution model. Rumors circulate every so often about a new Apple-made HDTV or talks with content providers, but none of those have come to pass yet.

As an Amazon Associate I earn from qualifying purchases.