Tim Cook Talks Secrecy, Sapphire and Reading 800 User Emails a Day
The Mac is 30 and as teasers of a new Mac Super Bowl ad and rumors of an iWatch and bigger iPhone with a Sapphire screen swirl Apple executives sat down to answer questions about Apple's secret keeping, Sapphire crystal investment and more. During the interview Cook explains that he keeps the tradition of reading user emails alive, reading hundreds every day.
To celebrate the Mac turning 30, Apple CEO Tim Cook SVP Craig Federighi and SVP Bud Tribble will appear on an interview tonight with World News with Diane Sawyer, but this morning Good Morning America aired a teaser with interviewer David Muir, who goes right for the prize with questions about what products Apple will announce in 2014. 9to5Mac shares the teaser.
Muir starts out by asking if rumors of black drapes over products are really part of Apple's secret keeping strategy. Cook replies that drapes and locked doors are definitely real at Apple, joking that Muir's visitor pass won't get him through the important doors at Apple's headquarters. When asked about employees keeping secrets, Federighi chimes in to say that, "My wife has no idea," prompting Muir to ask if they are Navy Seals.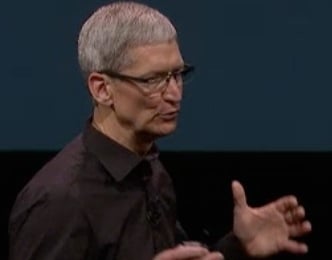 Cook also addresses the half a billion dollar investment into Sapphire Glass in Arizona, but cautions that the company did not say what the glass is for. Cook would not comment on the timing for glass coming off the line or if it would show up on a bigger iPhone. The current rumors suggest Apple is working on an iPhone 6 for 2014 with two bigger screen size options.
When pressed to talk about the iWatch Tim Cook jokingly replies that Apple is making a ring. This joke refers to an analyst report from 2013 that claimed Apple would offer a ring controller for an Apple TV set.
Tim Cook says that he receives 700 to 800 emails from Apple customers and users every day, and as part of his day that starts at 3:45 AM he reads almost all of thee emails every day. While Cook does not reply to every email many users report receiving short replies from the Apple CEO. According to a 2011 report on MacRumors, Apple tracks the emails sent to the CEO and executives to stay on top of complaints and customer criticism.
In the bigger interview Apple CEO Tim Cook will talk about the NSA and other topics.

This article may contain affiliate links. Click here for more details.