Timbuk2 Quickie Review: Great 11″ MacBook Air Bag
I recently purchased a Quickie bag from Timbuk2 to serve as a carrying case for my 11″ MacBook Air.  Some would call it a man purse, but I'm much more concerned about saving my back than making a fashion statement.
I was originally looking for a simple notebook sleeve for my MacBook Air when I visited the Timbuk2 retail store in San Francisco. They didn't have any sleeves designed for the 11-incher, which was a disapointment, but the saleswoman quickly suggested the Quicke XS ($45). I liked what I saw and bought it and a Timbuk2 Scuba Sleeve ($35) for my iPad 2 on the spot.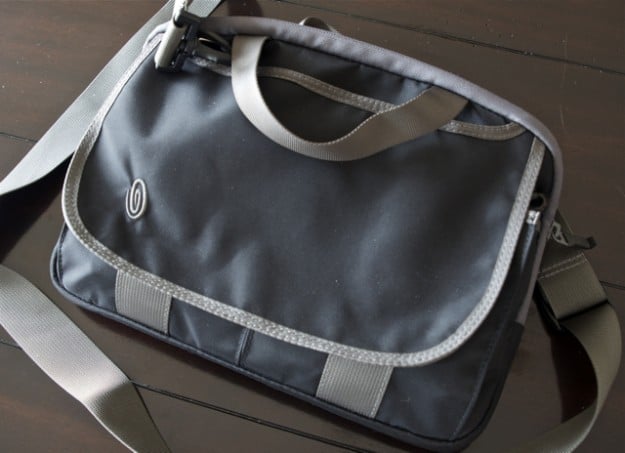 The Timbuk2 Quicke XS is a miniature messenger-stye bag designed to fit the 11″ MacBook Air. The shoulder strap is detachable and the small handles can be tucked away if you're after a sleeve-like appearance.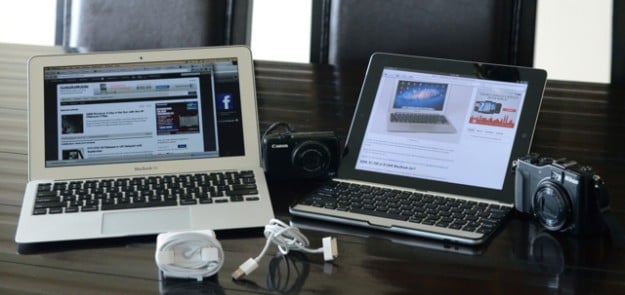 So what can I stuff in this little bag? I've been mixing it up between the gear in the photo for the past few days.  From left to right is my new 11″ MacBook Air, Canon S90 point-and-shoot camera,  iPad 2 with my new keyboard case and Nikon P7000. In the foreground is the 11″ MacBook Air's charger and the USB cable for my iPad 2.
There are two accessory pockets under the Quickie's flap. They are big enough to carry two mobile accessories each without bulging. The flap is lined with vinyl, which should offer a modest amount of water resistance. The flap is secured by two big strips of velcro, which is preferable to magnetic or snap closures on bags.
The nylon shell as a whole is not designed to be water resistant, so I wouldn't consider bringing this bag out in bad weather.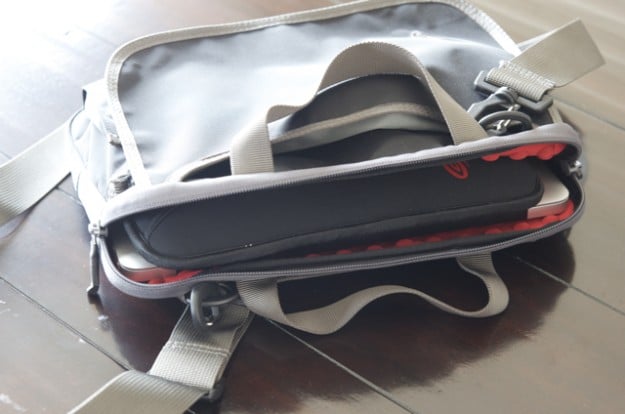 There's more than enough room for the MacBook Air. In fact, there's plenty of room for my iPad 2, even when it's wearing the Timbuk2 Scuba sleeve.
One thing to note is that the Quickie XS I purchased came with d-rings and a shoulder strap. According to the Timbuk2 Quickie product page the smallest Quickie does not come standard with the shoulder strap or d-rings. Perhaps they've changed the configuration since publishing the product page or I happened upon a one-off at the store.
The interior of the Quickie XS is red and lined with almost 300 half-sphere bubble pads for protection. If you look closely at the image above you'll see there's a black nylon lip between the zipper and the red lining. This is a great little feature that prevents the zipper from scraping the MacBook Air when I pull it in and out of the bag.
I'm wary of carrying my iPad 2 without a case after dinging its back panel during a recent trip. It's nothing more than a neoprene sleeve, but I bought it instead of  similar cases for a few reasons.The first is that the flap doesn't open fully and is lined with Velcro, which means I can't accidentally spill my iPad 2 out of it. Instead, I have to peel the case off the iPad 2, which means it's more secure. A plush fabric lines the interior and wipes smudges of the iPad 2's display as it's slid in and out of the sleeve. I also liked the red pattern on the exterior, which is a street map of part of San Francisco.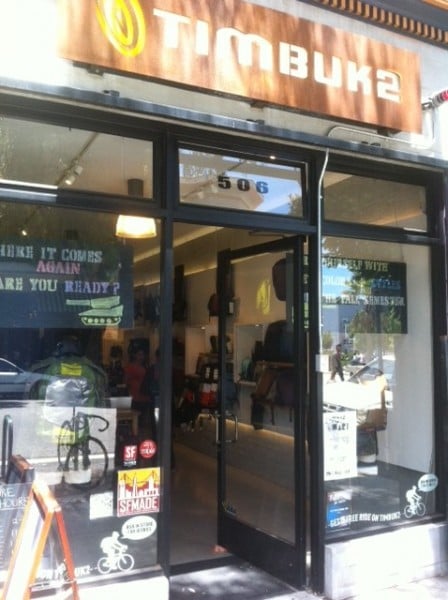 I'm pretty pleased with my purchase so far, even though I bought it on impulse.  I happened to be a few blocks away from the Timbuk2 retail store after a meeting and bought the Quickie XS and Scuba Sleeve without comparison shopping. Timbuk2's well-stocked retail store knowledgeable staff made the shopping experience far better than ordering online.

As an Amazon Associate I earn from qualifying purchases.