Time to Deliver Articles in Flipboard for Android and iPhone
Fans of magazines like PEOPLE, InStyle and FORTUNE Magazine can now ditch their paper subscriptions in favor of the Flipboard application for iOS and Android.
Time Inc. and Flipboard disclosed the news in a press release this morning, noting that longtime users can begin reading Time's magazines through Flipboard's applications beginning today. Essentially Flipboard is what iBooks and Amazon Kindle are to books. It enables publishers, like Time Inc., to focus on delivering quality stories regardless of what platform a user might be on.
It also allows avid magazine readers to get their fix, comment on stories and share their own favorite magazines with other Flipboard users. The app doesn't just focus on long-form pieces, users can also have the Flipboard pull news stories from their favorite websites based on what their interests are. They can even pull stories and updates from social networks like Twitter and Facebook.
Time Inc. may be embracing the future in one way, but it certainly isn't going all in. Today's press release only indicates that users can expect PEOPLE, TIME, FORTUNE and InStyle articles and pieces in Flipboard. It makes no mention of the company's other highly rated properties like Sports Illustrated.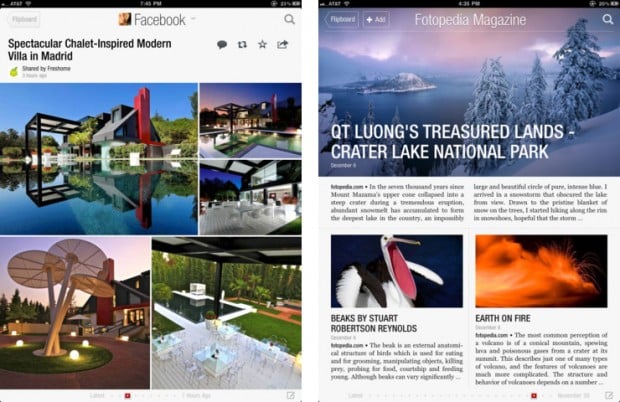 Still, this is certainly big news for Flipboard. Since its founding by a former Apple engineer, the company has made a name for itself by blending design elements and powerful applications into a solution that readers can appreciate.
Read: Flipboard Officially Arrives on Android
Fran Hauser, President, Digital, Time Inc. noted that it expects to grow its audience because of Flipboard's accessibility saying, "If you look at the enormous built-in following and influence our brands carry, and combine it with Flipboard's ability to showcase our content and photography so beautifully and make it more discoverable, this is a great place for us to be."
Industry trends seem to back up Hauser's assertion that being on Flipboard is great for Time's publications. Profits from physical magazine sales and advertising have begun to take a hit thanks to the widespread use of the internet and devices that make reading anywhere relatively easy, like the smartphone.
Flipboard is available in the iTunes App Store, Amazon App Store, Google Play and the Nook Store. Windows, Windows Phone and BlackBerry 10 don't have native versions of Flipboard yet.

This article may contain affiliate links. Click here for more details.