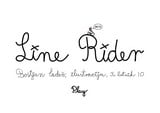 Ed Holloway thinks that Line Rider might be the coolest game ever and that we should do an InkShow featuring this silly little novelty. Well, if you like sledding, or like to fall off of sleds, and like games you can play with Ink, this curiosity is quite fun.
Line Rider is just that. You draw a line (or lines) and your character hops on his sled and rides the line, until of course he (maybe a she) crashes, soars through the air, or simply falls off the end of the line. Fun little time waster.

As an Amazon Associate I earn from qualifying purchases.