Time Inc. Magazine Subscribers to Get Free iPad Subscriptions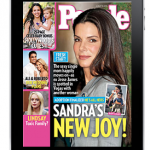 The thing I hate most about digital goods is paying for the same content twice. For example, I pay for access many of the same movies on demand via Comcast and Netflix. Until now, People magazine subscribers had to pay once for a hard copy of the magazine and a second time for an iPad version. Adding insult to injury, they didn't even get a break on the newsstand price.  Starting this week, People magazine subscribers will be able to get the iPad version of the weekly magazine for free.
Time Inc. is expected to roll out a similar scheme to its other magazine titles, including Fortune, Time and Sports Illustrated, within a month. Apple isn't allowing Time, or any other publisher, the ability to sign up for subscriptions in the App store.

This article may contain affiliate links. Click here for more details.