Time Inc's Tablet Project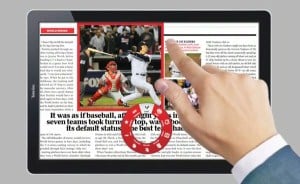 Terry McDonell, the editor of Sports Illustrated, showed TechCrunch and others a demo of Time Inc's "Manhattan Project," a system to bring magazines into the digital age. The system, complete with swipe control to turn pages, is designed with tablet systems in mind and will likely be ported to devices other than the HP Tablet PC in the demo, apparently a tx2 with multi-touch control.
The idea is to create something so beautiful and fluid that readers will actually want to pay for it. The cover takes up the full screen and you tap it to show a table of contents with thumbnails of the actual layout, which you can rearrange to read in any order you like. To flip through the pages you swipe with two fingers, and you can also tap to get a navigational timeline at the bottom. There is also a navigation wheel which lets you share stories via email, Facebook, or Twitter, favorite a story, go to related videos or photos interviews, other articles, or stats such as live scores.
Built using Adobe AIR. Looks pretty good in the videos (especially the concept video demo from The Wonder Factory below – beautiful women in bikinis enhance any demo). The photo album within what would be the static magazine photo is a great idea. But I must wonder, why is Time, Inc. giving away this story to non-Time sources? Surely one of their own online magazines could have broken the story. I know they're spinning off AOL, but there's still a week left in that relationship, and yet Engadget is grabbing the story from All Things Digital? Kind of weird way to debut the thing that's supposed to save your magazine business.