Titanfall 2 Pre-Orders: What You Need to Know
Somehow the war brewing between major video game development studios and the first person shooters that they produce, is heating up. For years, we've been able to count on two blockbuster first-person shooters battling it out for top sales each year, Battlefield and Call of Duty. Respawn Entertainment is hoping that its Titanfall series will be the third franchise everyone thinks about when they get excited for a new fall shooter. A few weeks ago, Titanfall 2 pre-orders kicked off.
Titanfall 2 is the highly-anticipated follow up to the original Titanfall. It's also a brewing rival for Call of Duty: Infinite Warfare. Before the game's launch, many knew about Respawn Entertainment more for the games members of its senior staff worked on previously. Company head Vince Zampella helped create the Call of Duty franchise before leaving Activision to form Respawn. Titanfall let Xbox One and Xbox 360 owners become pilots during a civil war. Its advanced weaponry, spacious maps, easy to grasp gameplay and giant robots that dropped from the sky helped it become one of this console generation's most loved games.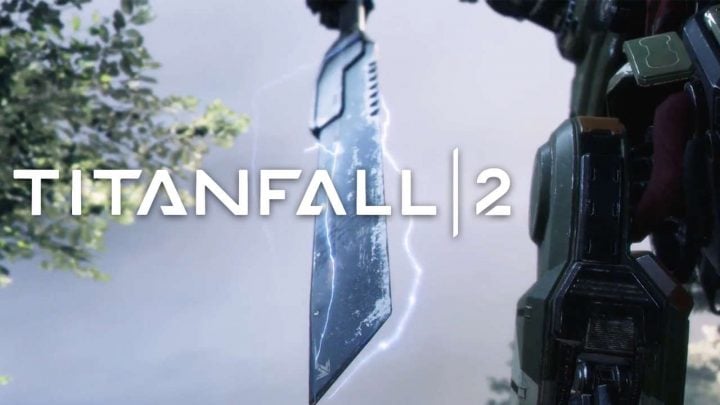 Read: 3 Tips for Xbox one Titanfall Players
Titanfall 2 pre-orders, like the game they contain, pack some big upgrades. For those that want everything that the game has to offer there's the Titanfall 2 Deluxe Edition. Hardcore Titanfall fans can pick up a more expensive package that gets them Titanfall 2 and a special Vanguard helmet. Here's what you need to know about the pre-orders.
When Do Titanfall 2 Pre-Orders Arrive?
With the November months stuffed with games, Electronic Arts and Respawn Entertainment managed to carve out a pretty safe window for the Titanfall 2 launch. Everyone will be able to pick up their Titanfall 2 pre-orders on October 28th, the game's release day.
Where You Should Place Titanfall 2 Pre-Orders
The usual websites and retailers all have Titanfall 2 pre-orders available now. That being said, which version of the game you want to purchase ultimately determines where you'll end up placing your pre-order. Some retailers only offer a limited selection of the game's editions. Other retailers don't offer anything except digital downloads of the game.
Titanfall 2 Editions & What They Include
As expected, Titanfall 2 does usher in some big changes for the game's availability. It was months before release that Xbox One owners found out that they'd be the only current-generation video game console to get the first game. Luckily, Electronic Arts and Respawn Entertainment did make a version of the game for Xbox 360.
Read: Key Xbox One Exclusive is Possibly Head to the PS4
Titanfall 2 is coming to Xbox One, but won't be coming to the Xbox 360. What's more, PS4 gamers will get the opportunity to purchase the game too. PC users were able to purchase Titanfall and will be able to purchase Titanfall 2.
Read: Titanfall 2 Release Details Could Disappoint Some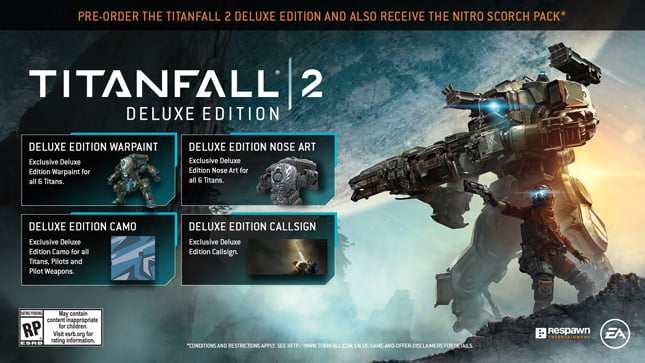 A basic Titanfall 2 pre-order costs $59.99 for Xbox One, PCs and Sony's PS4. It'll come in both disc and digital form, with GameStop able to sell prepaid codes to users that want to add it to their digital game collection, but still take advantage of the company's trade-in program.
Titanfall 2 Deluxe Edition
$79.99 Titanfall 2 Deluxe Edition includes special Warpaints and Nose art specific to the Deluxe version of the game. Users also get two camouflages for every Titan in their arsenal and a special Callsign. Ion and Scorch Prime Titan skins are included too.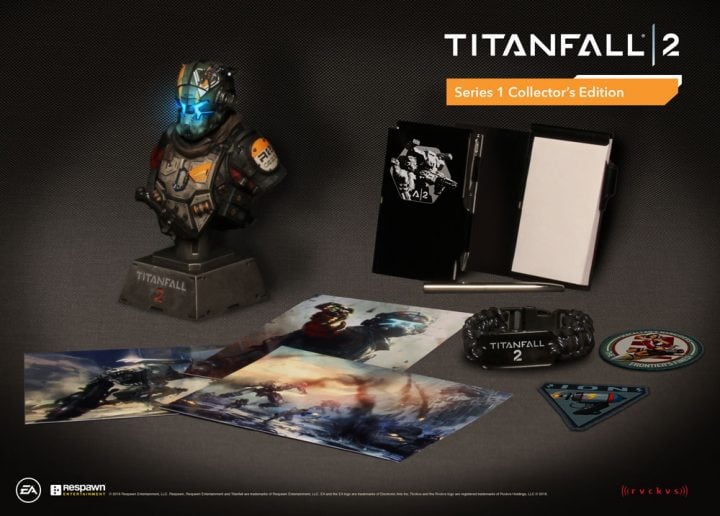 Titanfall 2 Marauder Corps Collector's Edition
Titanfall 2 Marauder Corps Collector's Edition comes with a copy of the game, an illuminated bust of a Titan pilot that stands 7-inches tall, a game-themed field journal, art prints, a survival bracelet with the Titanfall 2 logo and two squad patches. This version of the game costs $159.99 from GameStop.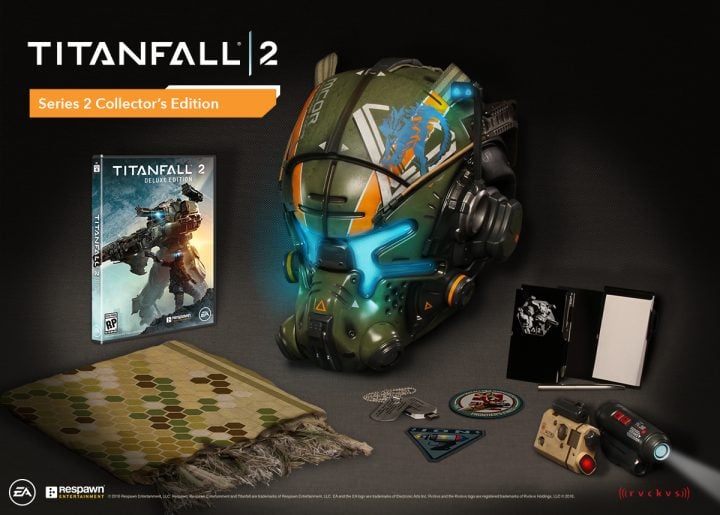 Titanfall 2 Vanguard SRS Collector's Edition
For those that truly want every piece of memorabilia the game has to offer, there's Titanfall 2's Vanguard SRS Collector's Edition. Vanguard SRS Collector's Edition comes with an illuminated, wearable Titan pilot helmet, a matching scarf, a laser targeting sight, patches, an 8GB flash drive disguised as a dog tag and a field journal. Xbox One and PS4 owners can place their Titanfall 2 pre-orders at Amazon to get their hands on this version.
Read: Titanfall 2 Vanguard Edition – 5 Things to Know
One interesting thing to note is that there's no Titanfall 2 Season Pass included with any of these versions of the game. After the original game launched, Electronic Arts and Respawn switched DLC tactics, opting to give all of the game's maps away for free to keep the game's player base together. Respawn confirmed to website IGN that it's doing the same for this new game. It's also giving away any new modes that it adds after release.
Titanfall 2 Pre-Order Extras
Often with games like this, publishers dole out extras to entice users to pre-order at specific retailers. Luckily, Electronic Arts is keeping the confusion down with just one set of Titanfall 2 pre-order bonuses for early buyers.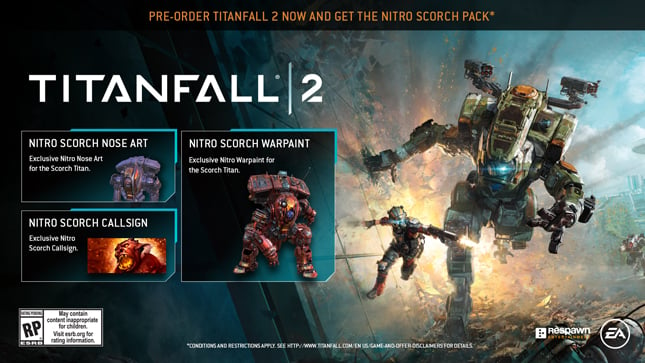 The publisher is giving everyone that buys the game early the Titanfall 2 Nitro Pack. The pack comes with Warpaint, Nose Art and a Callsign for players to customize their pilot and Titan robot with. Amazon, Best Buy and GameStop are all including access to the Nitro Pack. It's unclear whether any of the items contained in the Nitro Pack will be available for users to purchase once the game has launched.
All maps and downloadable content for Titanfall 2 will be free, but those that pre-order will get an exclusive map of sorts. Respawn is giving users early access to to the Angel City map if they purchase the game ahead of launch. Angel City appeared in the original game. Is unclear how long those that buy early will have access to the map before everyone else gets their hands on it, but it'll arrive for early buyers in December.
Good luck with your Titanfall 2 pre-order.

As an Amazon Associate I earn from qualifying purchases.