Titanfall 2 Release for PS4 and Xbox One Confirmed
It was only a year ago that Microsoft was talking up Titanfall, the highlight of its exclusive games line up for the Xbox One and Xbox 360. Already, talk is picking up on a sequel. In an interview with a gaming website developer Respawn Entertainment confirmed what many already suspected. There is a Titanfall 2 coming, and it appears it'll be available on the Xbox One and Sony's PS4.
Confirmation of a Titanfall 2 release came today from Respawn Entertainment head Vince Zampella's interview with IGN. It was actually Respawn Entertainment that developed the original Titanfall not Microsoft's Studios team. According to  Zampella, Titanfall 2 is already in active development, saying, "So we're working on a sequel. No official name yet, but we're working on that."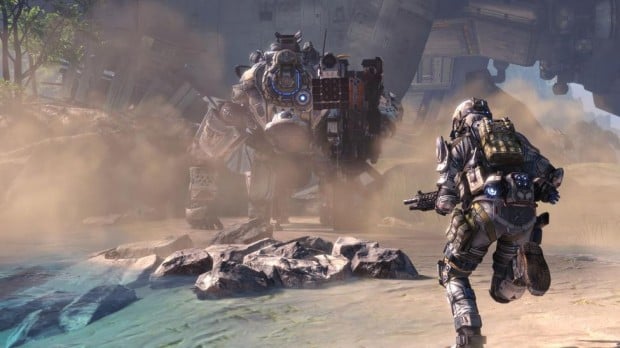 For now, Zampella nor Respawn is saying anything about actual new features. For example, we don't know if Titanfall 2, which is what we're calling the game until a formal name has been announced, will offer almost the same fighting robots, weapons and laser-focus on the multiplayer experience. That being said, Zampella does mention the lack of single player campaign in he first game saying, "We set out to do it and it was one of our goals. I mean it obviously prohibits a certain group of people playing the game, and as content creators you want to get into as many people's hands as possible."
If there was one thing more controversial than Titanfall being exclusive to Microsoft's Xbox One console it was the single player experience. More specifically, it was the lack of a single player experience as we've come to understand them today. Most first-person shooters come with two main modes.
There's a multiplayer experience that allows users to team up with and play against other players. There's also the single player for users who like the mechanics of the multiplayer but prefer a more controlled story-telling experience. Titanfall effectively shipped with no multiplayer. Instead, Respawn integrated some story dialogue into the multiplayer missions in the game. A lot of people appreciated the attention this afforded the multiplayer. Some users weren't happy that if they wanted to play Titanfall month after month they needed to subscribe to Microsoft's Xbox Live Gold service.
In his interview with IGN, Zampella does allude to an epic change in philosophy where downloadable content is concerned. "I think having the maps like that in packs, it does split the community and makes it harder for matchmaking, it's messy. Yeah, I don't know we won't do it again, I can't say that for sure, but the idea would be to do something different." Titanfall came with a decent set of maps originally, but three map packs added more.
Unless users purchased a season pass they were forced to pay for each map pack individually. What's more, which map packs you have or don't have places you in a smaller or larger pool of other players. For example, anyone who didn't pick up any map packs might have a harder time finding a good game to jump into than if they had all of them. This does explain why Respawn and Electronic Arts decided to give away Titanfall Season Passes to anyone with an Xbox Live account yesterday.
Originally, Titanfall was a launch title for the Xbox One. Even after its release day was pushed back Microsoft relied on the game to get shoppers into stores and buying their console. It was the only game that came with an Xbox One free for months last year.
Microsoft may have used the first Titanfall to boost sales of its Xbox One console, but chances are that the company already knew it wouldn't be able to do the same with Titanfall 2 before today. Rumors of Titanfall 2 coming to the PS4 have swirled for months. EA, the game's publisher, outright confirmed the existence of a follow-up.
We don't yet know of a potential Titanfall 2 release date. Electronic Arts and Respawn Entertainment could have more to say about that at this year's Electronic Entertainment Expo, but that seems very unlikely.

As an Amazon Associate I earn from qualifying purchases.